Oh man, is this ever decadent! So delicious, especially the creamy gravy that you top it with. My husband kept going back for more! He loves this recipe!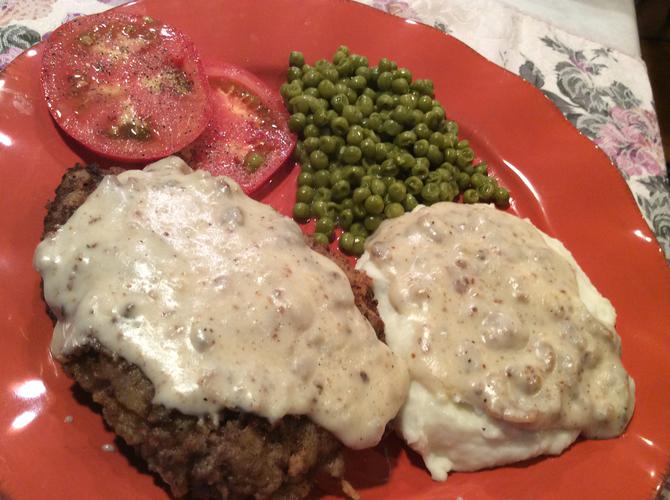 First start by getting your assembly line together: you'll need cubed steak, which is usually top sirloin, tenderized.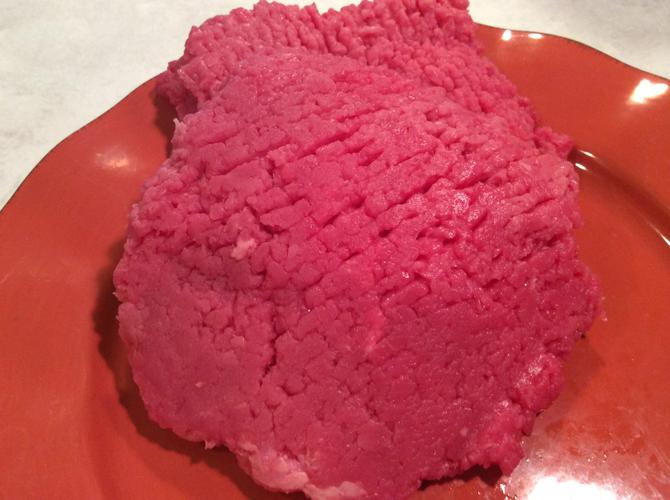 A bowl of whole milk with 1 beaten egg.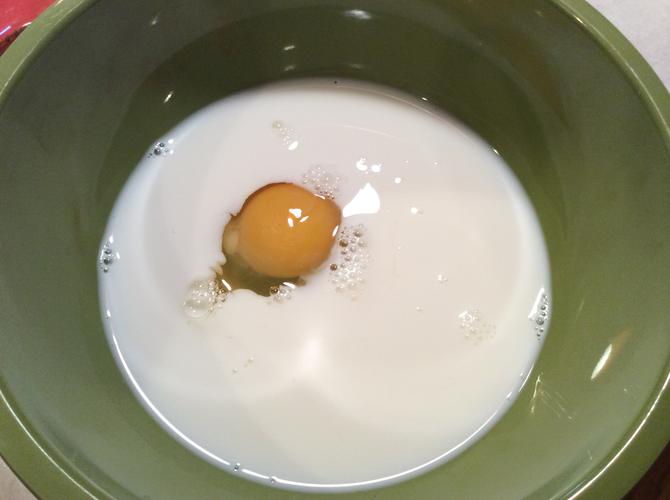 Whisk it together!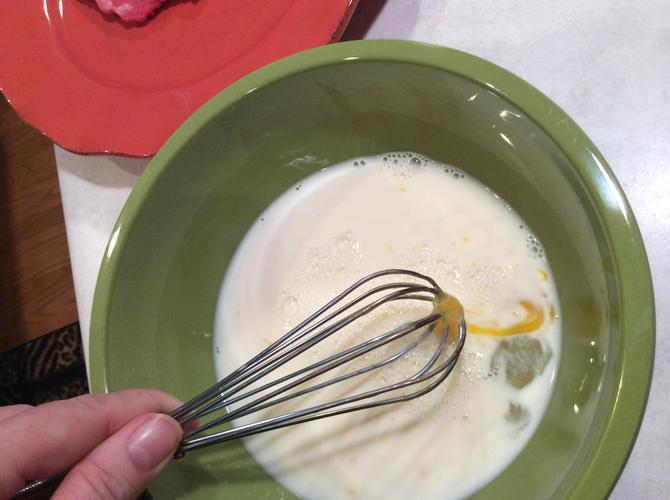 Next, you'll need a plate of flour....sprinkled with seasoned salt and paprika.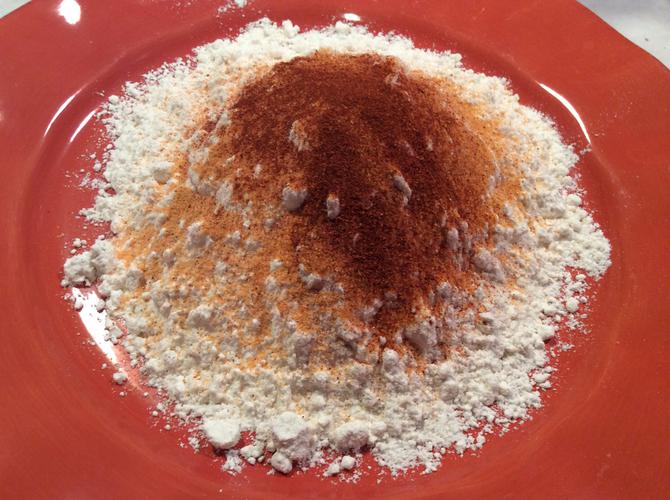 Add lots and lots of pepper! Mix it all together.
Now for the dipping! Dip steaks, one at a time, into milk/egg mixture. Make sure to coat each side.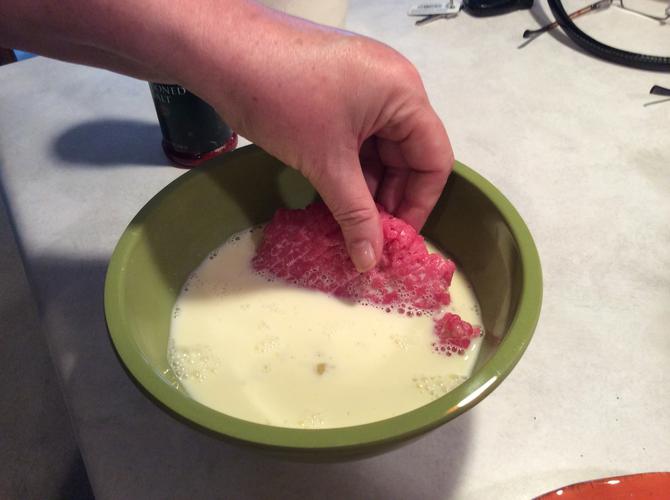 Dredge meat into seasoned flour, covering both sides with flour.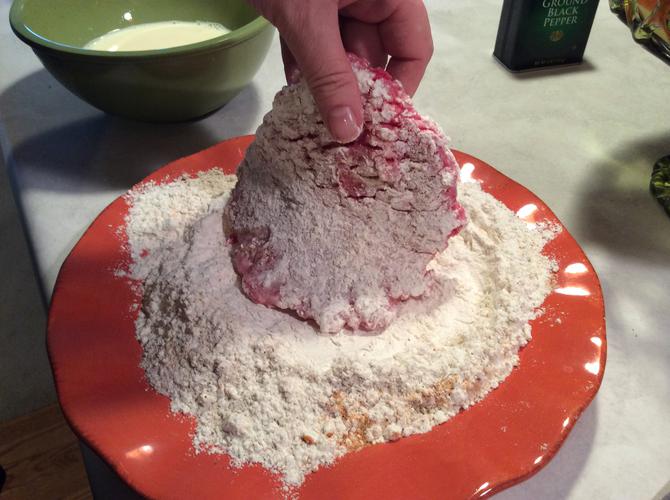 Now back into the egg mixture again!
Dredge in the flour once more.Place meat in a dish and bread the other pieces of meat. Heat some vegetable oil, shortening or canola oil in a cast iron skillet or a heavy skillet. Place meat in med-hot skillet.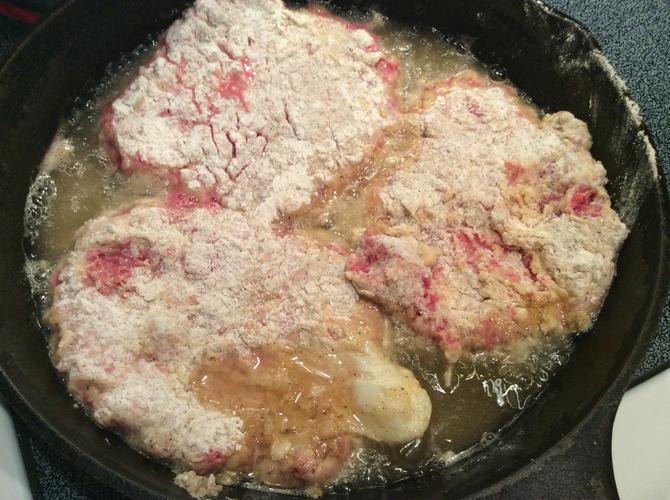 Cook until both sides are golden brown. About 3-4 minutes on each side.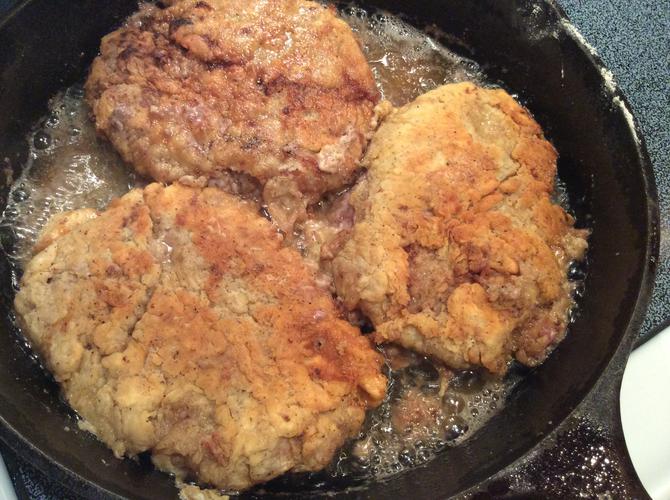 Remove from pan and drain on a plate that is lined with paper towels. Now, it's gravy-making time! Pour off all the grease in a heat-proof bowl and then add about 1/4 cup of fat back to the skillet. Over medium heat, add flour to the grease. Mixing well.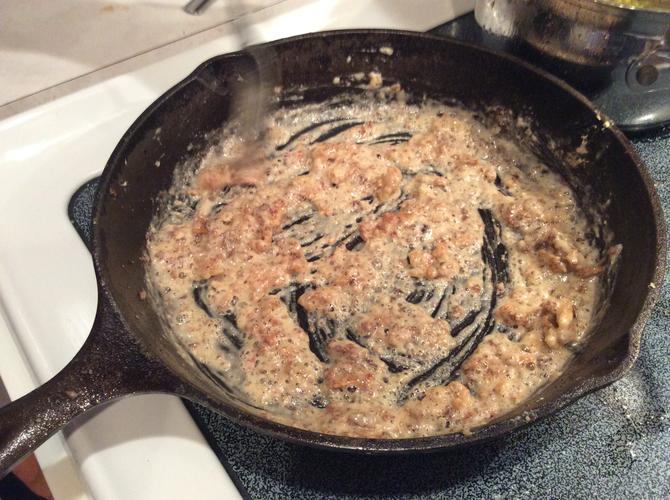 After the flour has browned a little bit, slowly stir in whole milk, stirring constantly.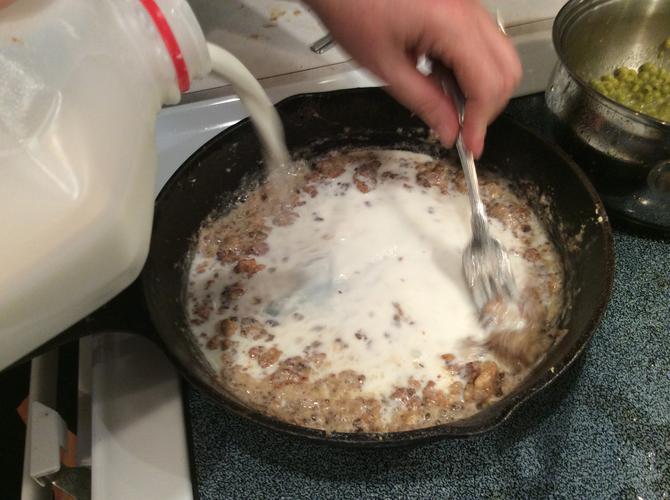 Whisk until it is a nice creamy consistency. Add salt and pepper. Serve with mashed potatoes and your favorite vegetable.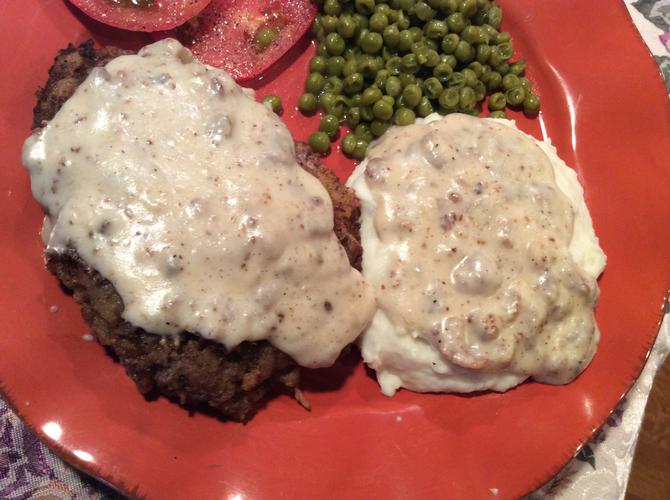 Miss Cindy's Chicken Fried Steak and Gravy
Ingredients:
3-4 pieces of cubed steak
1 cup whole milk, Plus up to 2 cups for gravy
1 egg
2 cups flour
Seasoned salt
paprika
salt and pepper to taste
Canola oil, vegetable oil or shortening
Instructions:
Start by making an assembly line of dishes: for the meat, egg mixture, and flour mixture and for meat once it's been breaded. Work with one piece of meat at a time, dip meat into egg/milk mixture, then dredge into seasoned flour. Dip meat once again back into the egg mixture and coat in flour mixture. Repeat this process with remaining meat.
Heat oil in a large skillet over medium heat. Once skillet is hot, fry meat until the edges start to look golden brown, about 3 or 4 minutes on each side. Remove from heat. Drain on a paper towel lined plate.
Gravy:
Pour off all the grease and then add 1/4 cup grease back to the pan. Heat grease back up, sprinkle 1/3 cup of flour over the grease. Whisk flour and grease together, allowing flour to turn a nice golden brown--the browning is what gives it such good flavor. Slowly add milk, whisking constantly. Cook until it thickens. Add more milk if you need to. I usually just go by feel on the milk part. Just make sure it's at a nice, smooth and creamy consistency. Add salt and pepper to taste. Serve over steaks with mashed potatoes.