This is such a wonderful tasting recipe--Tomatoes, red onion, avocado, basil seasoned with a wonderful vinaigrette! A perfect summer salad!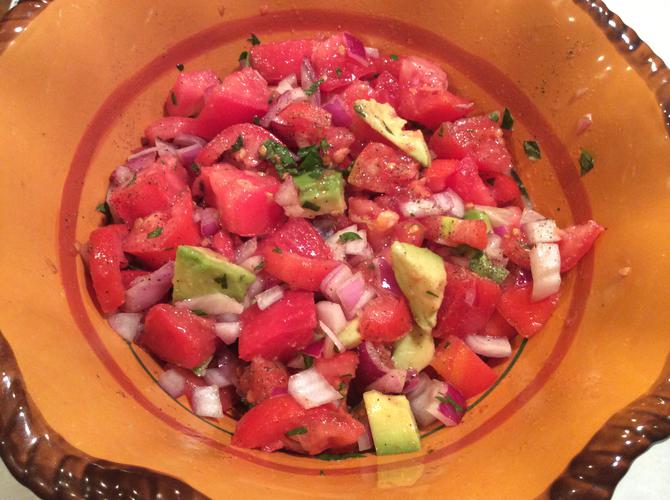 Ingredients:
3 medium ripe tomatoes, chopped
2 avocados, peeled, chopped
1/2 med. red onion
2-3 tablespoons, fresh chopped basil
salt and pepper to taste
Vinaigrette:
2 tsp apple cider vinegar
1 tbsp lime juice
1/4 tsp oregano
3/4 tsp sea salt
1/4 tsp brown sugar (optional)
1/4 tsp black pepper
2 tbsp olive oil
2 tbsp safflower oil
Instructions:
Chop tomatoes, onion, avocado, basil. Place in a medium bowl. Season to taste with salt and pepper.
To make the vinaigrette, pour the vinegar and lime juice in a small bowl. Add oregano, salt, sugar and black pepper. Pour the oils in a slow stream, whisking with a whisk or fork to emulsify. The vinaigrette can be made a day ahead of time, just emulsify before using. Pour over tomato mixture mix well, and serve.