14th Annual Easter Basket Drive
The 14th Annual KTWB Easter Basket Drive is Underway!
How You Can Help
We need your help. It's time to make sure that less fortunate kids in the Sioux Empire have a Happy Easter.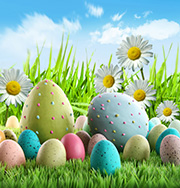 We're asking you to make or buy Easter Baskets and drop them off between 8:00am and 5:00pm, Monday through Friday, at our studio located at 500 S. Phillips Ave.
We're accepting baskets until 5:00pm on Wednesday, March 27th!
If you have a little extra time or money, please consider making or buying an Easter Basket to help out.
Your Help Will Be Greatly Appreciated
The baskets we receive will be distributed to agencies that service underprivileged kids in our communities. Thanks and Happy Easter from all of us at KTWB!