« All Events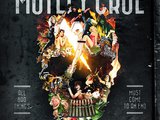 Motley Crue: The Final Tour
When:

Sun, November 16 , 5 PM - 8 PM

Where:

Category:
Event Details

With over 80 million albums sold, MÖTLEY CRÜE has sold out countless tours across the globe and spawned more than 2,500 MÖTLEY CRÜE branded items sold in over 30 countries. MÖTLEY CRÜE has proventhey know how to make a lasting impression and this tour will be no different. Fans can expect to hear the catalogue of their chart- topping hits and look forward tomind-blowing, unparalleled live production. "When it comes to putting together a new show we always push the envelope and that's part of Motley Crue's legacy," explains Nikki Sixx (bass).

The Final Tour presented by Dodge and producedby Live Nation will kick off in North America on July 2nd in GrandRapids, MI and reach 72 markets before hittinginternational territories in 2015.

Fanscan look forward to Very Special Guest, ALICE COOPER joining MÖTLEY CRÜE for anincredible package – Alice invented the genre and MÖTLEY CRÜE put steroids init! "Real hard rock bands are hardto find these days," said Alice, continuing, "Motley has always goneon stage with one attitude and that's to blow the audience away. That'sexactly how we do it. Putting Motley Crue and Alice Cooper together isgoing to be just what this summer really NEEDS. We're going to go outthere and tear it up, and I can't wait to see Motley on stage. MotleyCrue and Alice Cooper - A match made in... Armageddon?"

Cost Details

Tickets go on-sale Friday, Jan 31st at 10:00am.

Tickets available at the Fargodome Box Office, online at inforumtix.com or charge by phone at 855-MYINFORUM or 855-694-6367

LISTEN TO WIN YOUR TICKETS ON ROCK 102!