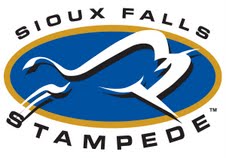 Sioux Falls, SD (KWSN) --It's been a record setting year for the Stampede on and off the ice. The club announced today they had the largest increase in attendance of all the USHL teams from a year ago. The Herd saw an increase of 25% in attendance during the 2012-13 season. Sioux Falls averaged 3,884 fans per-game during the year, up nearly 800 per-game from a year ago. On average, the Herd were just 66 fans shy a game for the best overall attendance in the league. The Stampede ranked amongst the top three teams in USHL attendance all season long.
In all 124,013 fans watched the Herd in action this season. The Stampede recorded four sellouts and had crowds of over 4,000 ten times during the season, including this past Saturday in which a sellout crowd of 4,668 watched the Stampede top Des Moines, 6-1.
"We can't thank our fans and corporate sponsors enough," said Stampede CEO/President Tom Garrity. "You can't be a successful organization without a solid fan base and the people of Sioux Falls have been the best fans in the league all season. The entire ownership group is excited about the future of Stampede hockey and hopes to build off the momentum from this season."
The attendance increase is just one of many accomplishments for the club this season. The Herd set franchise records for wins in a season (45), points in a season (92) and most home wins (24) while capturing the Western Conference title for the first time since the 2005-06 season.
The Stampede open the 2013 Clark Cup Playoffs tonight (Tuesday) at home against the Lincoln Stars in Game 1 of the Western Conference Semi-Finals at 7:05 PM. Game 2 of the series is Wednesday night at 7:05 PM at the Sioux Falls Arena. Tickets are available at the Sioux Falls Arena Box Office or any Ticketmaster location. Click here for more details.
Courtesy: Sioux Falls Stampede