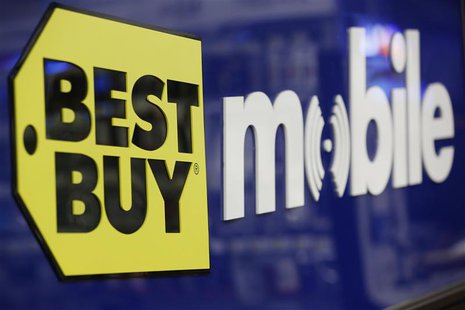 By Dhanya Skariachan and Paul Sandle
NEW YORK/LONDON (Reuters) - U.S. retailer Best Buy Co Inc retreated from its ill-fated European expansion on Tuesday by selling its stake in a joint venture to Carphone Warehouse Group for less than half what it paid five years ago.
The 500 million pounds ($775 million) sale is the latest sign the world's largest consumer electronics chain is scaling back its overseas ambitions to focus on its mainstay U.S. business, which faces cut-throat competition from the likes of Wal-Mart Stores Inc and Amazon.com Inc .
The deal will strengthen Best Buy's balance sheet, simplify its business and improve its return on invested capital, CEO Hubert Joly said in a statement, adding that the timing and economics felt right for the deal.
But allowing for currency fluctuations, the price is less than half the roughly $2.1 billion Best Buy paid in 2008 for 50 percent of the independent mobile seller's retail operations.
"(Best Buy) basically paid 1.1 billion (pounds) for the same half they are selling back to us today for a lot less," Carphone Chief Executive Roger Taylor said.
"When they bought in they had aspirations to put Best Buy stores across Europe, and they probably paid a premium for that, and in the end that strategy didn't work for many reasons."
Europe's economic prospects continue to worsen on the back of searing budget cutbacks to deal with a crisis of government debt in several southern countries, while the U.S. economic recovery increasingly looks firmly on track.
While Best Buy was able to use Carphone's phone expertise to boost its U.S. mobile business, the plans for a chain of European megastores fell apart due to weak consumer spending, low brand recognition and competition from local chains.
Ultimately, in 2011, Best Buy scrapped plans for the chain of European megastores and decided to focus on Carphone's existing smaller format stores there. It also bought Carphone out of its U.S. mobile phone joint venture for $1.3 billion.
EXIT INEVITABLE
Talks between the boards moved up a gear when Best Buy founder Richard Schulze tried to take the U.S. company private earlier this year, a move that would have triggered a change of ownership option for Carphone to buy out its partner.
Taylor said the deal, which is partly financed by the placing of 47.2 million new shares and leaves the British firm in charge of 2,400 stores in nine European countries, was good news for Carphone investors.
He said Best Buy's investment had effectively paid to establish TalkTalk , a broadband service provider spun off by Carphone Warehouse in 2010, and now worth 2.4 billion pounds ($3.7 billion), more than twice as much as its parent.
Ending the relationship would enable Carphone Warehouse to establish partnerships based on its mobile expertise with other retailers around the world, he said.
"We did it with Best Buy in the U.S. - it worked exceptionally well for them and for us - we want to explore the same opportunities with other retailers and distributors around the world," he said.
Shares in Carphone rose to a three month high of 234 pence on Tuesday, and they were trading 13 percent higher at 230pence by 6:43 a.m. EDT. The retailer separately said it's like-for-like revenue rose 6.5 percent in the fourth quarter, beating analyst predictions of around 5 percent. It said it would exit the French market, where it is struggling.
DEAL TERMS
Best Buy estimated its European unit to have sales of $5.5 billion to $5.6 billion, and "immaterial" diluted earnings per share, excluding items, this financial year.
Outside the United States, Best Buy currently operates in Canada, China, Europe and Mexico. The sale "should not suggest any similar action" in other overseas markets, Joly said.
The boards of both companies have approved the deal, which is expected to close by the end of June. Best Buy expects to take a related non-cash asset impairment charge of about $200 million.
The sale price included 420 million pounds in cash and 80 million in Carphone's stock. Best Buy has also agreed to pay Carphone 29 million pounds (about $45 million) to satisfy obligations under existing agreements.
Once completed, the deal will also mark the end of their "Global Connect partnership," which was aimed at replicating Best Buy Mobile's success in emerging markets like China.
(Editing by Patrick Graham)