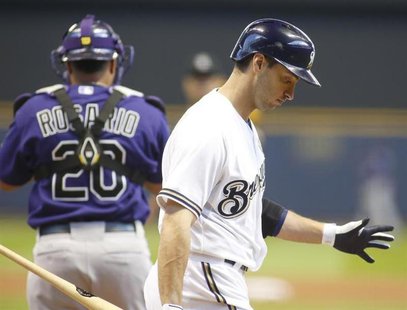 (Reuters) - Nike has terminated its deal with Milwaukee Brewers drug-tainted slugger Ryan Braun, the sportswear giant said on Friday.
A longtime endorser of Nike products, Braun accepted a season-ending 65 game suspension last week for his links to Biogenesis, the now-shut, Miami anti-aging clinic alleged to have distributed performance enhancing drugs to some of Major League Baseball's biggest names.
"I can confirm that we no longer have a relationship with Ryan. We have no further comment," Nike spokesman KeJuan Wilkins told Reuters in an email.
Braun, voted the National League's most valuable player in 2011, becomes the latest high-profile endorser dropped by the world's largest shoe and apparel maker for doping.
Last year Nike cut ties with cyclist Lance Armstrong after the seven-times winner of the Tour de France was stripped of his titles and later admitted to using performance-enhancing drugs.
(Reporting by Steve Keating in Toronto; Editing by Gene Cherry)