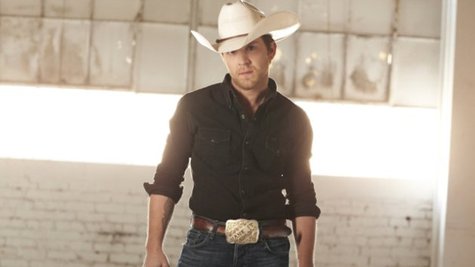 Justin Moore already has his hands full with his three-year-old daughter Ella . In fact, she's already breaking hearts in her weekly gymnastics class back home in Arkansas.
Justin says, "She's got a little boyfriend in there, and she just took him down one day and was kissing all over him in a tunnel."
Justin wasn't there the day Ella pulled that stunt, but he warned her she wouldn't be returning to gymnastics if she kept up with the PDA. So far, Ella has obeyed her dad's orders. It probably helps that Justin is showing up to more of Ella's gymnastics classes, much to the dismay of her little boyfriend.
"The little boy, who's three, told his mom that, 'I hope her dad don't bring her back again. I want her mom to bring her. Her dad scares me,'" Justin says. "So, I'm glad I've got that effect on my daughter and a boy at three years old. If I can keep that going for the next twenty years, I'll be doing alright."
Justin will release his third album, Off the Beaten Path , September 17 featuring his latest hit, "Point at You."
Copyright 2013 ABC News Radio