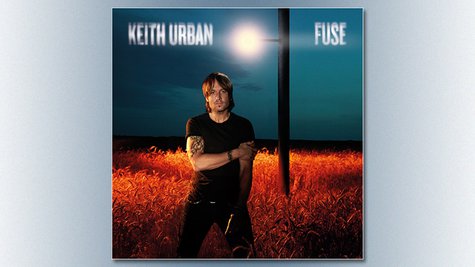 It was just over two months ago that Keith Urban announced that his next album, Fuse , would be out in September. Today, he's revealed the track listing.
Fuse will feature 13 tracks, including of course Keith's current hit, "Little Bit of Everything." There are also two high-profile duets, featuring Miranda Lambert and Eric Church on the songs "We Were Us" and "Raise 'Em Up," respectively.
"These songs just connected with me, whether for their energy or for what they were saying or just for the fact that they made me feel good," Keith says in a statement. "All of them have merit and even though we recorded a lot of songs, slowly this particular group started to come together."
There will also be a deluxe edition of Fuse that'll feature three additional songs. Both the regular and deluxe editions will hit retailers on September 10, but you can order them now, and preview the tracks, at KeithUrban.net .
Here's the track listing for Fuse :
"Somewhere in My Car"
"Even the Stars Fall 4 U"
"Cop Car"
"Shame"
"Good Thing"
"We Were Us" (featuring Miranda Lambert)
"Love's Poster Child"
"She's My 11"
"Come Back to Me"
"Red Camaro"
"Little Bit of Everything"
"Raise 'Em Up" (featuring Eric Church)
"Heart Like Mine"
"Black Leather Jacket" (deluxe edition only)
"Gonna B Good" (deluxe edition only)
"Lucky Charm" (deluxe edition only)
Copyright 2013 ABC News Radio