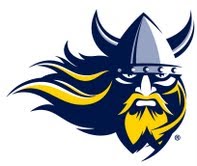 SIOUX FALLS, S.D. (KWSN)– Augustana student-athletes begin reporting to fall camp this week.Football will welcome 97 players on Friday, Aug. 16, while volleyball and soccer team members are scheduled to arrive on Sunday, Aug. 18.
Members of the men's and women's cross country squads check in on Sunday, Aug. 25, and the following day travel to the Black Hills for the beginning of training camp.Men's and women's golf are set to open practice on Thursday, Aug. 29.
Jerry Olszewski enters his first season as the Vikings' head football coach in 2013. Augustana, which finished 5-6 last season, was picked to finish ninth overall and fifth in the South Division in the 2013 NSIC Preseason Coaches' Poll. The Vikings report to camp on Aug. 16, with the first practice being held on Saturday, Aug. 17. Augustana opens the season on Saturday, Sept. 7, hosting MSU Moorhead at Kirkeby-Over Stadium beginning at 1 p.m.
Sixth-year head coach Ashley Buckley welcomes 16 players to fall camp on Sunday, Aug. 18. The Vikings are coming off a 17-13 record in 2012, which included a postseason berth to the NSIC Tournament. Augustana opens the regular season on Friday, Sept. 6 against Claflin University in the Alaska Anchorage Invite in Anchorage, Alaska.
Brandon Barkus begins his eighth season at Augustana in 2013 when he welcomes his team on Sunday, Aug. 18. Barkus returns 27 players from a 2012 team that finished 6-10-2, including All-NSIC honorees Kara Bartels and Maren Werth.
Head cross country coach, Tracy Hellman, enters his 13th season at the helm of one of the strongest programs in the nation. Augustana will depart for its annual trip to the Black Hills on Monday, Aug. 26 to prepare for the 2013 season. The Viking men enter the season as the four-time defending NSIC Champion and the reigning Central Region Champion. The women will chase their sixth straight NSIC title, and seventh consecutive conference title, while defending their 2012 Central Region Championship. Both teams will begin the season on Friday, Sept. 6, hosting the Augustana Twilight at Yankton Trail Park at 8 p.m.
Coach Peggy Kirby's women's golf team made its sixth straight NCAA Tournament appearance in 2012-13 after winning its fourth straight NSIC Championship and finishing second at the Central Region Championships. The Vikings open the season on Sept. 7-8, hosting the Augustana Invite at Bakker Crossing Golf Course.
Steve Klock begins his third season as the head coach of the men's golf program in 2013-14. Augustana registered a sixth-place finish in the 2012-13 NSIC Tournament and had two golfers finish in the top-10, including Tyler Jensvold (eighth) and Clay Kopplin (ninth).