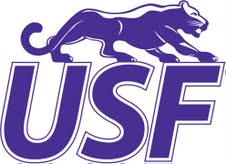 SIOUX FALLS, S.D. (KWSN) – The University of Sioux Falls men's cross country team was picked to finish in third place by a vote of Northern Sun Intercollegiate Conference cross country coaches in their annual preseason poll. The Cougars received 122 points, only 3 points behind second place Minnesota State and 22 points behind first place Augustana. On the women's side, USF was selected sixth and received 127 points.
The USF men's squad returns all seven members from the team that finished third overall at the 2012 NSIC Cross Country Championships, including NSIC All-Conference performers Billy Brockmueller, Matt Horan, and Bobby Brockmueller.
Billy Brockmueller was picked as USF's male cross-country athlete to watch. During the 2012 season Brockmueller qualified for the NCAA Division II National Championships as an individual after his 9th place finish at the Central Regional Meet. Brockmueller, a native of Brandon, S.D., also earned the NCAA's Elite 89 Award which is given to the athlete with the highest GPA that is competing in the NCAA National Championships.
The women's team will rely heavily on newcomers as they return only two runners from the 2012 team that finished 6th overall at the NSIC Championships.
Sierra Harder was chosen as USF's female cross-country athlete to watch. Harder also earned NSIC All-Conference honors for her 14th place finish at the 2012 Championships. In the 2012 Central Regional Meet, Harder finished 24th overall.
Augustana College was picked as the favorites in both the men's and women's poll. During the 2012 season, the Vikings men's and women's programs swept the team titles at the NSIC Championships.
The NSIC Cross Country field has expanded in 2013 with the addition of Upper Iowa, which brings the total to 15 women's teams and 13 men's teams.
Both Cougar teams will open the 2012 season at the Augustana Twilight Invitational on September 6th at Yankton Trails Park in Sioux Falls.
NSIC Cross Country teams will compete in several meets throughout the fall with the season culminating at the NSIC Championships in Sioux Falls, S.D. at Yankton Trails Park on October 26th. Two weeks later the Cougars will again compete at Yankton Trails Park in Sioux Falls at the NCAA Central Regional Championships.
Courtesy of University of Sioux Falls