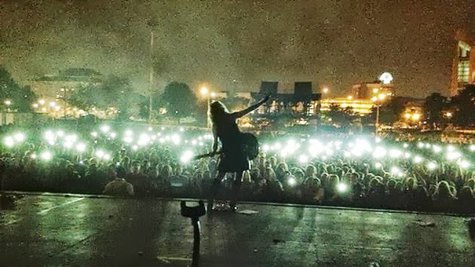 The Band Perry got a little help from their fans in the lighting department Friday night. The trio was on stage at Ohio State University in Columbus singing "All Your Life" when the generators failed and left the band in total darkness. Fans in the crowd held up their cell phones, providing enough light for The Band Perry to continue with a performance of "I Will Always Love You." It's just the latest curveball the Perrys have overcome during a show
"We never know what's going to happen when we step on stage," says Kimberly Perry . "One show I'm throwing bits of my shredded dress into the audience, and another we're playing under the cell phone spotlight."
Her brother Reid Perry adds that they should start performing Meatloaf 's classic rock hit "Paradise by the Dashboard Light" as "Paradise by the Cellphone Light" during their shows.
Go to TheBandPerry.com to see where they're playing next.
Copyright 2013 ABC News Radio