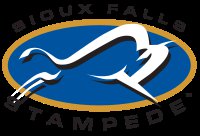 Sioux Falls, SD (KWSN)—The Sioux Falls Canaries are hosting "Stampede Hockey Night" this Thursday at the Birdcage. Fans will get their first chance to meet the 2013-14 team before and during the game.
Season ticket holders can purchase tickets in advance for just $5 each. In addition, anyone wearing a Stampede jersey or shirt to the game can get in for just $5. Game time against Sioux City is 7:05 PM and gates open at 6 PM.
The Stampede players, along with USHL Coach of the Year Cary Eades, will be signing autographs from 6-7 PM just inside the gate. Fans are encouraged to bring their own hockey memorabilia to be signed. During the game, several players will participate in on field promotions. The whole night is dedicated to the Stampede hockey team and a kickoff to the upcoming season.
Sioux Falls is coming off a record setting year in which they set franchise records for most wins in a season (45), most home wins in a season (24) and points in a season (92). The team advanced to the Western Conference Finals before falling to Fargo in five games.
The entire Stampede team will report to Sioux Falls this weekend with training camp starting Tuesday, September 3rd. An official training camp roster will be released on the first day of camp for the defending regular season Western Conference champions.
Season, group and suite ticket packages are now available through the Stampede office by calling 605-336-6060 or find more information at www.sfstampede.com.
Courtesy: Sioux Falls Stampede