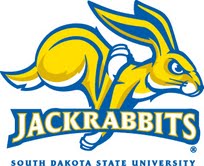 FLAGSTAFF, Ariz. (KWSN) — South Dakota State scored 26 consecutive points and recorded seven sacks as the Jackrabbits advanced in the Football Championship Subdivision playoffs with a 26-7 victory at Northern Arizona Saturday night.
The 13th-ranked Jackrabbits ran their winning streak to five games and improved to 9-4 overall. SDSU will play No. 3 national seed and Big Sky Conference champion Eastern Washington Dec. 7 in Cheney, Wash. Kickoff is slated for 1 p.m. Pacific Time.
Eighth-ranked Northern Arizona, which played without head coach Jerome Souers due to complictions from recent surgery, ended its season 9-3 overall.
Tied at 7-all at halftime, the Jackrabbits took the lead midway through the third quarter on a safety. Jackrabbit punter Ethan Sawyer pinned NAU at the 2-yard line, and after a false start penalty moved the ball back to the 1, T.J. Lally drove running back Zach Bauman out of the end zone for a 9-7 SDSU lead.
On the free kick following the safety, Je Ryan Butler broke off a 38-yard return to the NAU 39. Two plays later, Zach Zenner broke around the right end for a 34-yard touchdown run.
Meanwhile, the Jackrabbit defense took control, holding NAU to seven net yards of total offense in the third quarter.
A roughing-the-punter penalty late in the third quarter extended a Jackrabbit drive and SDSU cashed in as Justin Syrovatka booted a 20-yard field goal to push the lead to 19-7 three-plus minutes into the fourth quarter. The scoring drive covered 66 yards on 15 plays and took more than seven minutes off the clock.
Reggie Gandy's 7-yard touchdown run with 7:05 remaining in the game provided the final margin.
After a scoreless first quarter, Northern Arizona drew first blood on a 6-yard touchdown run by Zach Bauman with 9 minutes, 56 seconds to play in the first half.
SDSU appeared on the verge of tying the game on the ensuing possession, but Zenner was stripped of the football at the NAU 1 and the Lumberjacks fell on the loose football in the end zone for a touchback.
The Lumberjacks then drove deep into SDSU territory, but Kyren Poe's pass attempt was batted into the air and was intercepted by defensive end Jack Sherlock. One play later, Zenner atoned for his earlier miscue by out-running the Lumberjack defense for an 87-yard touchdown with 3:14 to play in the half.
Zenner finished the game with 249 yards on 30 carries as he crossed the 100-yard mark for the 12th time this season and went over the 200-yard mark for the second time in three playoff games.
As a team, the Jackrabbits rolled up 399 yards of total offense, including 343 on the ground. SDSU quarterback Austin Sumner completed only 4-of-15 passes for 56 yards, but gained another 45 on the ground on seven carries.
NAU finished with only 53 net yards rushing and 301 yards of total offense. Bauman gained 101 yards on 22 carries, while Poe completed 16-of-27 passes for 216 yards, but was intercepted three times. Dejzon Walker caught four passes for 93 yards.
The Lumberjack offense converted only one of 14 third-down attempts in the game.
Lally, Chase Douglas and Cole Langer led the Jackrabbit defense with six tackles each. Douglas recorded a pair of sacks and four tackles for loss. Doug Peete and Marshall Peugh each notched 1.5 sacks.
An Arizona native, Butler (Tempe) also had a big day both defensively and on special teams, intercepting two passes and tallying 67 yards on four punt returns.
NOTES: The all-time series, which began in 1985, is tied at 1-1 … SDSU improved to 2-2 in FCS playoff games and 2-3 all-time in NCAA playoff games … Zenner moved into second in career rushing for the Jackrabbits with 4,458 yards, passing Kyle Minett (4,277 yards from 2007-10) … Jason Schneider was held to a season-low one reception, but became the first Jackrabbit in the Division I era to record 1,000 receiving yards in a season (1,007) … Justin Syrovatka took over sole possession of third place in career field goals at SDSU with 35, breaking a tie with Peter Reifenrath (34 field goals from 2008-10) … Sawyer punted six times for an average of 44 yards, landing four punts inside the NAU 20 … attendance was 5,077 at the J. Lawrence Walkup Skydome.
Courtesy: South Dakota State University