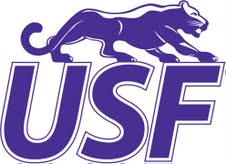 SIOUX FALLS, S.D. (KWSN) – The University of Sioux Falls women's basketball team fell at home to rival Augustana College, 76-70, in front of 1,251 fans on Saturday afternoon at the Stewart Center.
Augustana (6-1, 2-1 NSIC) used a 25-9 second half run to break the game open and improve to 27-3 all-time against the Cougars (5-2, 1-2 NSIC).
Freshman Sam Knecht posted the first double-double of her young career to pace the Cougars, finishing with 14 points and 14 rebounds—including eight on the offensive glass. Laura Johnson scored 13 points to go with eight rebounds, while Marie Malloy filled the stat sheet with 11 points, 5 rebounds, 3 assists and 3 steals in her third consecutive start.
Viking guard Emily Schulte finished with 20 points to lead all scorers.
Laura Johnson drove the lane and scored to give the Cougars the quick 2-0 lead with less than a minute gone in the game. The Vikings countered on their end and would move ahead 9-6 with Emily Schulte accounting for Augustana's first seven points.
Tied at 21-all, Sam Knecht went down low in the key for two before the Vikings gained valuable momentum late in the first half.
Rhianna Gullickson went backdoor to give the Vikings their largest margin of the first half at 33-27. Taylor Varsho hit a three-pointer to cut the deficit in half and before Marie Malloy considered a three, but darted in for a layup on the left block. The Parkston native then went coast-to-coast to give USF the 34-33 lead. She and Molden went a combined 4-for-5 from the line to give USF the 38-37 lead at the break.
The Cougars shot well in the first half (15-for-31) but racked up missed scoring opportunities by not taking care of the basketball. The Vikings forced 13 turnovers in the first half – almost USF's average for an entire game (14.8).
After the break, the Vikings went on a 25-9 run to open up a 62-47 lead with just over nine minutes to play. Malloy started to right the ship for USF with a three-ball and later picked Emily Schulte's pocket for a fastbreak bucket that got the Cougars within seven at 65-58., and then Johnson showed off her feathery touch with a clutch three that cut the Viking lead to just three at 73-70 with a minute to play.
However, Gullickson blitzed the lane moments later and Shaunteva Ashley hit one of two free throw attempts to create the final margin.
USF shot 36.5 percent overall but struggled more from beyond the arc, connecting on just five of twenty-five attempts. The Cougars owned a significant edge in total rebounds (48-35) and were charged with season-high 23 turnovers.
USF travels to Winona State and Upper Iowa next weekend.
Courtesy: University of Sioux Falls