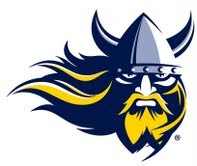 LEXINGTON, Ky.(KWSN) - Augustana senior Holly Hafemeyer earned American Volleyball Coaches Association first team All-America honors and junior Courtney Ysker was named an All-America honorable mention in a release from the AVCA on Wednesday.
This is Hafemeyer's second consecutive year being listed as an All-America recipient -- she earned third team honors last year -- and Ysker's first All-America accolades.A middle blocker from Faribault, Minn., Hafemeyer became the seventh different Viking to earn All-America honors one season ago, and now becomes the sixth Viking to earn first team All-America honors, and third Viking to earn a spot on the AVCA All-America team in consecutive years.
Hafemeyer was named to the AVCA All-Central Region first team, Daktronics All-Central Region first team, and All-Northern Sun Intercollegiate Conference first team for her performance this season.Hafemeyer led Augustana's offense in 2013 to their first 20-win season in five years. Starting all 30 matches, Hafemeyer tallied 445 kills (4.32 per set) while maintaining a .362 attack percentage. Living up to her title of middle blocker, Hafemeyer tallied 117 total blocks (21 solo, 96 assist) for a 1.14 blocks per set average which ranked second in the NSIC.
Hafemeyer's attack kills per set average ranked second in the NSIC, ninth in the NCAA, her attack percentage was slotted fifth in the NSIC, 18th in the NSIC, and her points per set average of 5.08 ranked second in the NSIC, fifth in the NCAA.With several career performances throughout the season, Hafemeyer earned a host of weekly awards this season.
The 6-foot-3 senior became the third Viking in program history to earn AVCA National Player of the Week on Nov. 12 when she hit a career-high 24 kills in consecutive matches to take down MSU Moorhead and No. 20 Northern State.Hafemeyer also earned NSIC player of the week three times in 2013. Her 11-block performance -- one shy of tying an Augustana record -- against Northwest Missouri State garnered NSIC defensive player of the week honors on Sept. 16.
Hafemeyer then grabbed her first NSIC offensive player of the week honors on Oct. 7 and then earned offensive player of the week honors for a second time on Nov. 11 after her 48-kill weekend.After her four years as a Viking, Hafemeyer has her named littered throughout the Augustana record books.
With 1,193 career kills, Hafemeyer became the 21st Viking to hit 1,000 kills in her career kills and she ranks ninth all-time. Her career attack percentage of .330 ranks second and her career mark of 3.59 kills per set ranks third in the Augustana annals. Hafemeyer's 1.01 blocks per set is sixth and she is tied for 10th with 335 total blocks in her career. Hafemeyer tallied 1,386.5 points in her career and ranks second all-time with 4.26 points per set.
A junior outside hitter, Ysker joins the Viking elite with her All-America honorable mention selection in 2013. Leading Augustana in attack attempts with 1,142, Ysker finished with 413 kills (4.01 per set), second on the team. Ysker also ranked second on the Vikings with 361 digs (3.50 per set) and fourth with 54 total blocks. Ysker's kills per set ranked 19th in the NCAA and her points per set mark of 4.53 was 16th in Division II.Hailing from Windom, Minn., Ysker excelled on defense and offense, tallying 18 double-doubles on the season.
Ysker reached double-digit kills in 25 of her 30 matches and recorded at least 10 digs in 21 matches showing off her all-around game.Ysker adds her first All-America honors to AVCA All-Central Region honorable mention accolades and first team All-NSIC honors from this season.The Vikings finished the 2013 season 22-8 overall, 14-6 in the NSIC which placed them in a tie for fourth, the highest conference finish since 2008.
Augustana was ranked ninth in the final NCAA Central Region rankings, one spot from earning a bid to the NCAA Central Region tournament.
Courtesy: Augustana College