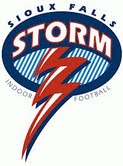 Sioux Falls, SD (KWSN)-Charlie Sanders has agreed to play for the Sioux Falls Storm for a fourth season in 2014, solidifying the center position on the offensive line.
Sanders came to the Storm in 2011 after his rookie season in Billings. He attended Valdosta (Ga.) State University, where he played in the 2007 NCAA II National Championship game. Sanders has been named First Team All-IFL in each of the last four seasons. Charlie and his family are currently living and working in Sioux Falls.
"Charlie has been the main rock in building the wall in front of our QB's" stated Storm Head Coach, Kurtiss Riggs. "We are very fortunate that we can rely on Charlie to help lead our offense once again. ." – Head Coach, Kurtiss Riggs.
Sanders is passionate about mentoring the youth of our community. He is working with a non-profit organization called Collision/First Priority of Sioux Falls. Their mission is to mentor and empower student leaders with the ability to share the Gospel of Jesus Christ with their peers.
Courtesy: Sioux Falls Storm