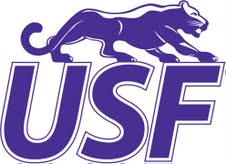 WINONA, MIIN. (KWSN) – The University of Sioux Falls men's basketball team opened the weekend on a sour note as the Cougars were handled by Winona State, 90-65, Friday night at McCown Gymnasium in Winona, Minn.
The win was the 350th of WSU head coach Mike Leaf's career, giving the winningest coach in Winona State history a 350-133 mark in his 16 seasons on the Warrior bench.
The absence of 6-8 junior center Bryan Kielpinski and 6-6 junior forward Preston Rayburn, left the Cougars (5-3, 2-2 NSIC) shorthanded - and just plain short – against a Warriors team (8-2, 4-0) that lists seven players standing at least 6-6.
Winona State's senior guard duo of 6-7 Kellen Taylor and 6-5 Taylor Cameron looked unstoppable on their home court. The fact that the pair enjoyed a sizeable height advantage over their Cougar counterparts certainly didn't hurt.
In 26 minutes of play, Cameron finished with 18 points on 6-for-11 shooting and connected on 4-of-5 three point attempts. Taylor just missed a double-double, posting eight points and adding a game-high ten rebounds. He helped harass the Cougars into 19 turnovers on the night, finishing with four steals and two blocks.
In addition, freshman guard Isaiah Gray scored 18 off the bench and 6-11 center Skyler O'Laughlin shot 4-for-6 from the field, netting a career-best 11 points and hauling in four boards on the offensive glass.
For USF, junior guard Charles Ward finished with 18 points to share game-high honors with WSU's Cameron and Gray. Ward went 5-for-10 from the field and converted 8-of-9 free throw attempts. 6-8 redshirt freshman Cutler Finneman played a career-high 25 tonight and the 6-8 redshirt freshman scored a career-high 15 points and had four rebounds.
Senior guards Robert Goffney (10) and Derek Brown (10) rounded out the quartet of Cougars in double-digits. Brown hit a pair of threes to move into sixth all-time in USF's record book, with 145 three-pointers.
USF took its only lead of the game at 4-2. Winona State led 15-6 at the first media timeout and went 6-for-6 from deep early on to take a 28-17 advantage with just under eight minutes to play in the first half. Finneman's three-pointer fueled a 7-0 run that got the Cougars to within five, 31-26, at the 4:46 mark before the Warriors closed out the half on a 12-4 run to lead 43-30 at the break.
The Warriors dominated the glass in the first twenty minutes, finishing the half with a 24-9 advantage in total rebounds and would out-rebound the Cougars in the game, 41-27. In fact, Winona State's offensive rebound total (16) was just two shy of USF's defensive total of 18. All of the 11 Winona State players who touched the court except for one finished the game with at least one rebound, the sole exception being 6-foot-6 senior reserve guard Kyle Melcher and he played just eight minutes.
The Warriors opened the second half on a 10-0 run to extend their lead to 53-30 three minutes into the frame. USF got no closer than 23 the rest of the way.
USF will close out the weekend tomorrow afternoon at Upper Iowa (3-7, 1-3).
Courtesy: University of Sioux Falls