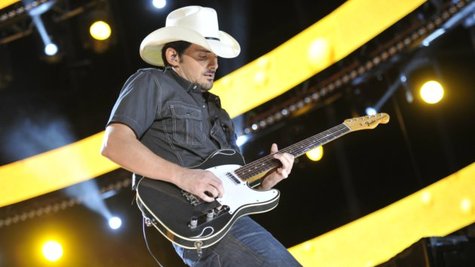 Brad Paisley has several special guests on his new album, Wheelhouse , coming out April 9. As previously reported, Charlie Daniels and LL Cool J appear on the album. But now he's revealed that others contributing to the album include Dierks Bentley , Hunter Hayes on guitar, pop artist Mat Kearney , Eric Idle of Monty Python fame and -- though the magic of technology -- even the late country legend Roger Miller .
Judging from the song titles, Brad's album features additional songs dealing with international travel, even beyond his latest hit "Southern Comfort Zone." The opening track is titled "Bon Voyage" while another song title is in Japanese.
Fans can now head over to BradPaisley.com to see the album titled revealed as part of an interactive experience featuring a mosaic and a making-of-the-album interview with Brad. Wheelhouse will also be available as a deluxe version with four extra tracks.

Here's the Wheelhouse Track Listing:

"Bon Voyage"
"Southern Comfort Zone"
"Beat This Summer"
"Outstanding in Our Field (Featuring Dierks Bentley and Roger Miller with Hunter Hayes on guitar)
"Pressing on a Bruise" (Featuring Mat Kearney)
"I Can't Change the World"
(Japanese Song Title)
"Karate" (Featuring Charlie Daniels)
"Death of a Married Man"
"Harvey Bodine"
"Tin Can on a String"
"Death of a Single Man"
"The Mona Lisa"
"Accidental Racist" (Featuring LL Cool J)
"Runaway Train"
"Those Crazy Christians"
"Officially Alive"
Copyright 2013 ABC News Radio