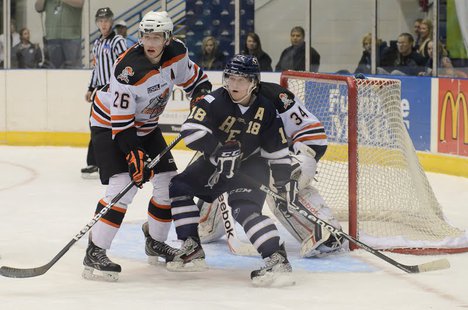 Sioux Falls, S.D. (KELO-AM) - The Stampede travel to Fargo to take on the Force in a battle for first place in the Western Conference. Sioux Falls enters the game with a three point lead over Fargo for first place making this a huge game. Sioux Falls can extend their lead to as much as five points or could see their lead cut all the way down to one point with a regulation loss.
Tonight's game will be broadcast on Newstalk 1320 KELO AM. Pre-game with Jim Olander starts at 7:10pm.
The herd are 4-0-1 against the Force, but have not faced them since December 28th when the Herd topped Fargo 5-3 at Scheels Arena. All the games in this series have been close with three games being decided in overtime and all five games have been decided by two goals or less. After tonight, Sioux Falls hosts Fargo on March 6th and then travel to Fargo to close out the regular season series on April 5th.
Tonight's matchup features two of the hottest teams in the USHL since their last meeting on December 28th. Since that date, Sioux Falls has gone 12-4-1 while Fargo has gone 13-5-0.
Tonight is the first of three games in three days for the Herd who will travel to Omaha tomorrow night to face the Lancers and then host Green Bay on Sunday while Fargo will travel to Sioux City.