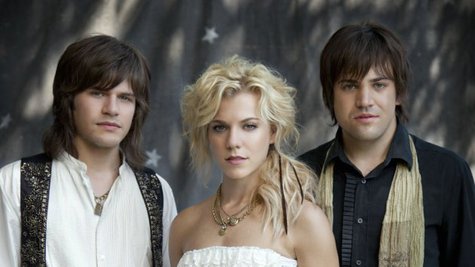 The Band Perry continues their opening spot on Rascal Flatts ' Changed tour through next month, and then they'll embark on a string of headlining and festival dates in the summer. Touring with the Flatts gives them the opportunity to play for arenas full of fans, but their headlining shows allow the Perry siblings to really connect with the audience in a bigger way.
Reid Perry says, "When we play our own shows, we do have about 15 minutes where it's just the three of us up on stage playing acoustically."
Playing smaller venues also allows The Band Perry to have more interaction with the audience, but there is something to be said for playing big rooms with the Flatts too.
Neil Perry says of playing those arenas, "You can have all the frills of the lights and the fog and stuff like that."
No matter what size their audience, the Perrys always try to get back to their musical roots at every show. While they draw on their love of Queen and Michael Jackson on stage, the sibling trio's concerts are firmly rooted in their love of country music, which they got from their mother.
"Loretta Lynn is like her hero," says lead singer Kimberly Perry . "So, I think we try to mix in all of those elements to our live show."
Look for The Band Perry to bring their live act to television as they promote their new, sophomore album, Pioneer , due out April 2. The project features their latest hit, "Better Dig Two."
Pioneer Track Listing:
"Better Dig Two"
"Done"
"Don't Let Me Be Lonely"
"Pioneer"
"Forever Mine Nevermind"
"Night Gone Wasted"
"I Saw a Light"
"Mother Like Mine"
"Chainsaw"
"I'm a Keeper"
"Back to Me Without You"
"End of Time"
Copyright 2013 ABC News Radio