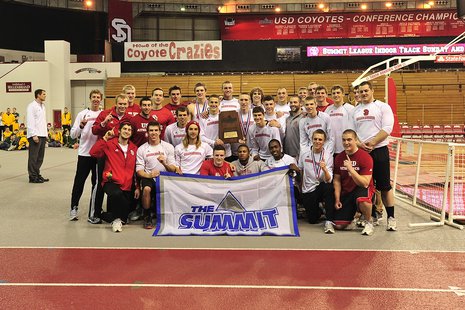 VERMILLION, S.D. (KWSN)—Seven individual championships and a winning relay team helped South Dakota capture the men's Summit League Indoor Track and Field Championship held at the DakotaDome Sunday and Monday. It is the first Summit League title in any sport for the Coyotes.
Four place winners in the 5,000-meter run, the second-to-last event, gave South Dakota the points it needed to edge North Dakota State. The Coyotes won the 1,600-meter relay for good measure to finish with 190 points. NDSU finished with 176.5 points. Kansas City was third with 118 points.
South Dakota junior Jeff Mettler was named Track Championship MVP. Mettler won titles in the 3,000-meter run (8:18.69) and the mile (4:11.18) and took third in the 5,000-meter run (14:40.28).
USD freshman Chris Nielsen won the 400-meter dash (50.28s) and anchored the winning relay team to garner Newcomer of the Year honors on the men's side. The Coyotes swept the award with fellow frosh Amber Eichkorn earning Newcomer of the Year on the women's side. Eichkorn placed third in the 3,000-meter run (9:55.43) and fourth in the 5,000-meter run (17:30.65).
South Dakota's women placed third with 114 team points, four shy of second-place Omaha. North Dakota State captured its sixth consecutive championship with 186 points.
Coyote juniors Bethany Buell and Megan Glisar won Summit League championships in the pole vault and high jump, respectively. Both set Summit League records and program records, and both improved their spots on the national list. Buell cleared 14-feet-5.5-inches, the fourth-best vault in the nation. Glisar reached 5-feet-11.25-inches in the high jump, the 18th-best jump to date.
Courtesy: Bryan Boettcher - USD Athletics