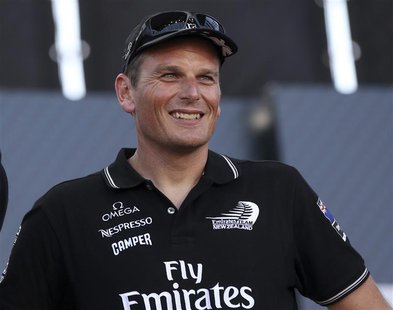 By Noel Randewich
SAN FRANCISCO (Reuters) - The 34th America's Cup sailing regatta began in San Francisco on Sunday with only one team competing in the first race as Italy's Luna Rossa Challenge sat it out in protest of rule changes it says put it at a disadvantage.
In a bizarre start to a competition that was originally meant to attract a dozen or more international challengers, Emirates Team New Zealand sailed the race course alone in San Francisco Bay in order to formally win the first of several matches in the Louis Vuitton Cup.
The winner of the Louis Vuitton Cup will challenge software tycoon Larry Ellison's Oracle Team USA for the America's Cup in September.
Luna Rossa's failure to show up for the midday match that was supposed to kick off the America's Cup "summer of racing" was another setback for an event where little has gone as planned.
Both Luna Rossa, backed by Prada fashion mogul Patrizio Bertelli, and New Zealand have objected to boat design changes that were put in place after a May accident that killed Artemis Racing crew member Andrew Simpson, an Olympic sailing champion from Britain, and wrecked the team's boat.
An international jury is considering the arguments, but a formal hearing was not scheduled until Monday - a day after the opening race.
After the one-boat race, New Zealand skipper Dean Barker said that while he respected Luna Rossa's decision not to sail and shared the Italian team's concerns about the rule changes, he was disappointed that they refused to sail.
"People come down to see a contest and that's what we should be putting on," Barker said. "When you look at the shoreline, there were a lot of people, given that it was just us sailing around on our own. We need to make sure we give them something to watch."
Luna Rossa skipper Max Sirena said that participating in the opening race would have implicitly signaled his team approves of the rule changes, which organizers say improve safety.
"We went out obviously watching the Kiwis racing around the course," Sirena said after New Zealand completed the course. "Today was hard for us to be on shore - as a sailor, as a sportsman."
Cafes, bars and viewing areas at a venue organizers built on San Francisco's waterfront for the Cup were far from crowded as the New Zealand yacht glided across the bay - alone - at speeds that briefly reached 42.8 knots, equivalent to 49 miles per hour, or 79 km per hour.
Ellison, who won the cup in 2010 and with it the right to set the rules for this year's race, hoped to make the 162-year-old competition more accessible to everyday sports fans and push the boundaries of high-tech boat design.
The result was a competition featuring 72-foot lightweight twin-hulled boats made of carbon fiber, with hard "wing" mainsails. Called AC72s, the huge catamarans have the ability to lift up out of the water on hydrofoils, but criticism has grown that the boats are dangerous and hard to maneuver in San Francisco Bay's heavy winds and rip currents.
In addition to disappointing fans, scuttled races are also a potentially major setback to teams that have invited hundreds of VIP sponsors to view the events up close in hospitality boats.
REGATTA GONE AWRY
While Luna Rossa's refusal to sail on Sunday may in the end have little impact on the competition, it symbolizes how Oracle Corp CEO Ellison's ambitious effort to reshape what critics deride as a rich man's yacht race has gone awry.
Meanwhile, the fourth competitor in the regatta, Sweden's Artemis, was left unable to participate in the Louis Vuitton races after its boat was destroyed. It is working to get a second AC72 ready and hopes to join the competition later in the summer, but warned on Friday that it would be forced out of the competition if the rule changes were rolled back.
Luna Rossa and Emirates Team New Zealand have refused to agree to rule changes affecting the design of a wing-like device known as a rudder elevator attached to the bottom of the blade-like rudders protruding down from the back of each hull to help the boat turn through the water. They maintain that race director Iain Murray does not have the authority to alter such rules.
The aggressive design of the AC72s helped push the cost of fielding a strong challenge above the $100 million mark, and the number of teams has dwindled from the 12-14 originally anticipated to just four.
(Editing by Jan Paschal, Alden Bentley and Matthew Lewis)