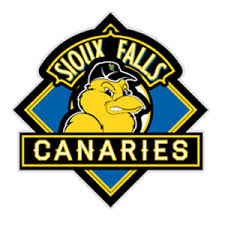 FARGO, N.D. (KWSN) – The Fargo-Moorhead RedHawks scored two runs in the eighth inning on Tuesday night and went on to beat the Sioux Falls Canaries, 4-2. The RedHawks (34-23) clinched the three-game series with the victory, extending the gap between themselves and the Canaries to 11 games in the North Division.
After the Canaries (23-34) evened the game in the top of the eighth on Jake Taylor's two-out base hit, Tim Alberts broke a 2-2- tie when he flared a two-strike, two-out pitch past the reach of Canaries shortstop Cory Morales in the eighth inning. Two runners scored, who each drew walks from Matt Daly (2-1) to start the inning.
Two hits and a sacrifice put the potential tying runs on base for the Canaries in the ninth, but Fargo-Moorhead closer Chase Johnson struck out J.P. Ramirez and induced Jared Clark into a pop out to end the game and record his 12th save.
An outstanding start by Canaries veteran Ben Moore was matched by Fargo-Moorhead's Jake Laber. Both held the opposition scoreless through five innings, and both lasted seven innings while not factoring in the decision.
Moore tied a season-high with eight strikeouts, seven of which came in the first three innings. A solo home run in the sixth inning by C.J. Retherford snapped Moore's stretch of 20 consecutive innings across three starts without allowing a run.
Ramirez and Anthony Trajano each had two hits for the Canaries (23-34), who lost for the fifth time in six attempts at Newman Outdoor Field this season.
Joe Harris (6-3) earned the win with one-third of an inning of relief.
The finale of the three-game road series against the first-place Fargo-Moorhead RedHawks is at 7:02 p.m. on Wednesday, July 16. The game will be broadcast on Sioux Falls Sports Radio 1230-AM, 98.1-FM KWSN and kwsn.com.
Courtesy of Sioux Falls Canaries