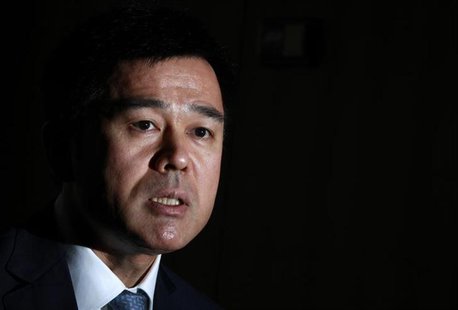 By Leika Kihara
FUKUSHIMA, Japan (Reuters) - Japan's government must push through reforms to restore the country's tattered finances to help ensure a sustained economic recovery, a central bank board member said on Monday, adding a planned sales tax hike was needed to control huge public debt.
Takehiro Sato also said the central bank would inject more stimulus if Japan's recovery was threatened, pointing to risks such as slowing growth in China and other emerging nations.
"A high degree of uncertainty remains concerning the global economy, and I see risks to the economic outlook as somewhat tilted to the downside," he told business leaders in Fukushima, northeastern Japan.
Prime Minister Shinzo Abe has been non-committal on whether he will go ahead with a scheduled increase in the sales tax rate to 8 percent from 5 percent next April, the first stage in a planned doubling of the levy, due to concerns it could weaken the economy.
Sato, an economist who joined the BOJ board last year, said the tax hike was a key step to rein in Japan's public debt, which is now the largest among major industrialized nations after years of fiscal spending to try to jump-start the stagnant economy.
"Restoring fiscal health is a very important step toward achieving sustainable economic growth in Japan," he told a news conference after meeting business leaders in Fukushima.
Abe's ruling coalition won a decisive election victory in upper house elections on Sunday, giving him a stronger mandate to push ahead with his 'Abenomics' recipe of fiscal and monetary stimulus as well as structural reforms to revive the economy.
But there are some doubts the victory would mean a greater resolve to see through difficult reforms.
POLICY OPTIONS REMAIN
The BOJ implemented a major plank of Abenomics with an intense burst of monetary stimulus in April, pledging to double the supply of money in two years to meet its inflation target, and has since held off on any further easing.
Sato said Japan's economy was headed for a sustainable recovery as household sentiment and exports improved, suggesting that risks were contained enough for now to allow the central bank to stand pat on policy.
But he said the BOJ would ease policy further if the recovery in world's third-largest economy was threatened.
"The BOJ still has policy options left," Sato said. "We have a free hand and are completely open on what steps to take if tail risks or downside risks materialize."
Sato said annual consumer inflation rate would likely turn positive in the summer, partly due to rising electricity bills and the weak yen that inflates the cost of energy imports.
He said the central bank's target of lifting inflation to 2 percent within two years -- a timeframe that had been outlined by Governor Haruhiko Kuroda -- should be interpreted with some flexibility.
"If the inflation rate is projected to stabilize within a certain range with the median being 2 percent price growth, the main objective of the BOJ's policy will have been fulfilled," he said.
Sato, along with fellow board member Takahide Kiuchi, has publicly doubted that 2 percent inflation can be specifically achieved in two years. Many private-sector analysts also see the BOJ's two-year timeframe as too ambitious for a country mired in deflation for 15 years.
(Editing by John Mair)