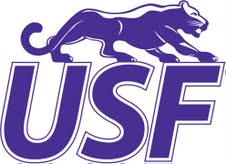 SIOUX FALLS, S.D. (KWSN)– The University of Sioux Falls track & field team had 14 athletes named to the USTFCCCA All-Academic team while both the men's and women's squads were tabbed as All-Academic teams by the USTFCCCA. For the women, USF had nine athletes receive All-Academic recognition. Recent graduates, Kayla Coffee and Kristin Majerus; seniors Brigitte Gross, Kendra Knight, Samantha Koch, and Kristen Townley; juniors Chelsey Schenavar and Marissa Whipple; and sophomore Sophie Harano were all recognized for their accomplishments in the classroom.
As a team, the USF women also were named as one of 92 Division II All-Academic teams. USF was one of 10 NSIC schools to earn the honor, and held the third highest GPA among NSIC institutions. On the men's side, the Cougars had five athletes named as all-academic individuals. Recent graduates Nathan Bridgman, Andrew Ellsworth, and Colin Koth; and redshirt juniors Bobby Brockmueller and Billy Brockmueller were each recognized as scholar athletes.
The men's team also was honored as one of 42 Division II All-Academic teams, boasting a 3.424 team grade point average— the second highest GPA among all Division II schools and the highest team GPA in the NSIC. Johnson C. Smith (N.C.) was the top team in Division II with a cumulative team mark of 3.448, followed closely by USF at 3.424 and Bentley (Mass.) at 3.33. To qualify as an All-Academic Individual, an athlete must hold a 3.25 GPA and hit a NCAA provisional or automatic standard during the indoor or outdoor season.
To earn All-Academic team honors, a program must have a cumulative team GPA of 3.00 or higher. "Earning these awards says a lot about the type of athletes that we have in our program," said Director of Track & Field, Reid Ehrisman. "Having athletes who excel on the track and in the classroom shows that hard work and dedication are required in both to be successful." Courtesy of University of Sioux Falls