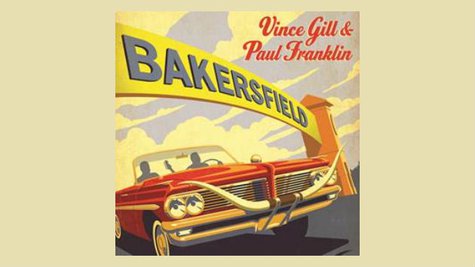 Vince Gill and master steel guitar player Paul Franklin perform together every Monday night in Nashville as part of the Western swing outfit The Time Jumpers . Now, they're extending that collaboration to the new album, Bakersfield , a tribute to the songs of Bakersfield, California's native sons Buck Owens and Merle Haggard .
While some of the songs on the album are more obscure, there are some obvious cover choices, like a new version of Buck's "Together Again." Vince explains, "On Monday nights playing with The Time Jumpers we started doing that one. Just people wanted to hear an old country song, and that's about as good as it gets. People were going nuts for it, and I said, 'Well, there's the first one. We've got to do that one for sure.'"
Vince has recorded duets with everyone from Reba to Barbra Streisand over the years, so it's a little curious that his first full-fledged duet project finds him partnering with a steel guitar player. Though Vince sings on every track on Bakersfield , he says this project is more of a duet between him on acoustic and electric guitar and Paul on steel guitar.
"It just made sense to me to reach out to a fellow musician," Vince says. "That's where I started. That's where I really cut my teeth. I was a musician long before I had the guts to open my mouth and sing. So, I think that doing this with Paul honors what I was first and foremost, was a musician."
Bakersfield received the ultimate seal of approval when Merle Haggard himself agreed to write the album liner notes. Vince and Paul were on pins and needles when they first sent the album off to Merle. Paul says when they got the liner notes back from Haggard, "It made me cry when I did 'cause he got it. You know, his comments per song, just, you could tell he really listened over and over before he sent it back."
Bakersfield is now in stores. Here's the track listing:
"Foolin' Around"
"Branded Man"
"Together Again"
"The Bottle Let Me Down"
"He Doesn't Deserve You Anymore"
"I Can't Be Myself"
"Nobody's Fool but Yours"
"Holding Things Together"
"But I Do"
"The Fightin' Side of Me"
Copyright 2013 ABC News Radio