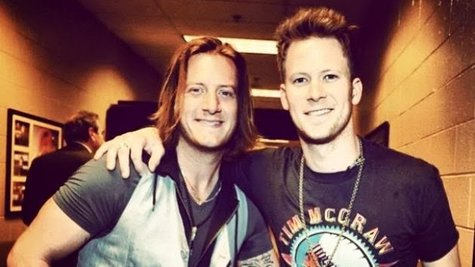 Florida Georgia Line will perform for thousands and thousands of country's biggest fans this week at events surrounding the CMA Music Festival in Nashville.
The duo's Tyler Hubbard and Brian Kelley will appear at the Stars for Second Harvest benefit concert Tuesday night at the Ryman Auditorium after making a special appearance at the Hard Rock Café earlier in the day. The guys are donating the clothes they wore in the "Get Your Shine On" video for display at the Hard Rock. The clip was filmed at the Hard Rock Hotel in Cancun.
Florida Georgia Line serves as presenters at Wednesday night's 2013 CMT Music Awards, where they're up for three trophies. They'll also perform the "Cruise" remix with Nelly on the show. The duo closes out their CMA Music Festival week with a performance on the main stage at LP Field Saturday night too.
Though these events are ticketed, Florida Georgia Line doesn't make any money from their appearances this week in Nashville. All the proceeds go to various charities. Tyler and Brian are just glad to have this chance to spend a week with the fans who buy their albums and concert tickets.
Tyler says, "It's cool to have fans spend money on a ticket or spend money on a CD or buy a t-shirt when you know fifteen bucks could be two meals. It just goes to show how passionate our fans are and how much they believe in us and support goes such a long way. We never take that for granted."
Fans can also check out Florida Georgia Line's new video for "Round Here," now airing on CMT and CMT.com .
Copyright 2013 ABC News Radio