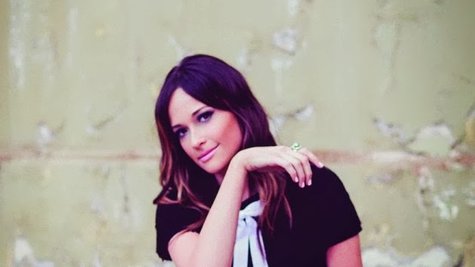 Kacey Musgraves couldn't ask for a better 2013 so far. Her debut album, Same Trailer Different Park , bowed at #1 on Billboard 's Country Albums chart in March, and her top 10 debut single, "Merry Go Round," earned her a gold certification for 500,000 paid downloads. Her new single, "Blowin' Smoke," is now climbing the country chart, and Kacey is thrilled to be embraced by country fans and radio programmers alike.
She tells ABC News Radio, "I just want to let everybody know how thankful I am being on the other side of getting the record out, and having people just really love it, it just makes me feel good 'cause I poured a lot of myself into it."
As for the success of "Merry Go Round," Kacey is thankful her sparsely produced song about secret lives in small towns made such a big dent at country radio.
"I can't believe that I got to come out of the gate with a song that is so near and dear to my heart and means so much to me," Kacey says. "It's a big part of me, and I'm just really happy that they helped me get it so far off the ground."
Kacey's having big success on the road too. After wrapping up a stint on Little Big Town 's Tornado tour earlier this year, she's now opening Kenny Chesney 's No Shoes Nation tour all summer long. Kenny even invites Kacey on stage at select shows to sing a duet version of his sexy song, "Come Over," but that invitation to sing never comes with an advance notice.
Says Kacey, "It's always kind of an off-the-cuff thing. I was just standing side stage and his guitar tech comes over and says, 'Hey, Kenny wants you to sing, like now.' I'm like, 'Ahhh!'"
Since "Come Over" is such an intimate song, Kacey admits she does get a little flirtatious with Kenny during the performance. It's all just part of the act though.
"You gotta get into it a little bit," Kacey says, "but it just kind of does make me laugh a little bit, like, 'Oh, Kenny. You know, Come over, Kenny. Or I'll come over to your island. Don't worry.'"
In all seriousness, Kacey is in awe of the way Kenny holds massive crowds in the palm of his hand every night.
She explains, "It's just cool seeing him like every time, bring his total A-game, and his band too. It's been a learning curve for me. I'm sure he gets tired, like every other human. He never lets it show, ever."
Kacey joins Kenny on the bill for his show at Lincoln Financial Field in Philadelphia this Saturday.
Copyright 2013 ABC News Radio