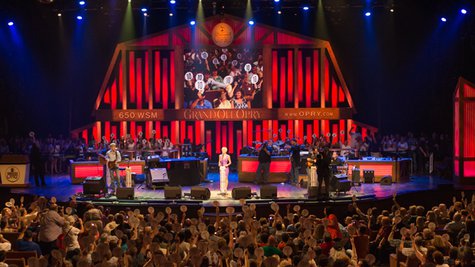 Kellie Pickler didn't just score perfect tens on ABC's Dancing with the Stars -- she also did it with the audience at the Grand Ole Opry Wednesday night, much to her surprise.
In her first appearance at the Opry since she won Dancing with the Stars , Kellie had just finished performing "Stop Cheatin' on Me," from her album 100 Proof , when the audience showed their appreciation by holding up paddles with "10" printed on them, in a nod to her ballroom victory.
Kellie was delighted by the gesture, laughing and asking the audience, "Did y'all plan that, or did everybody just happen to have those in their pocket?"
The celebration continued backstage, where Kellie was joined by her DWTS pro partner, Derek Hough , and others as she was presented with a cake, a toast and presentations from the Nashville Convention and Visitors Corporation and Pickler's record label, Black River Entertainment. And yes, the mirror ball trophy was there, too.
Others performing at the Opry last night included American Idol finalist Kree Harrison , Keith Urban , Rascal Flatts , Bill Anderson , Diamond Rio , Ricky Skaggs and Lennon and Maisy from ABC's Nashville.
Copyright 2013 ABC News Radio