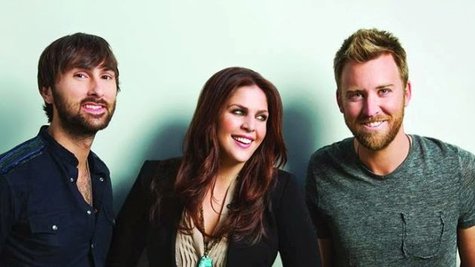 Lady Antebellum is off the road for the next few months while Hillary Scott prepares to welcome her baby girl. That doesn't mean her band mates Dave Haywood and Charles Kelley plan to sit around and twiddle their thumbs during this down time. While Hillary jokes that they'll be helping her out with babysitting duties, the guys will actually be busy laying the groundwork for Hillary's return to the stage.
The group just released their new album, Golden , a few weeks ago, and Charles says, "We're gonna be honestly preparing for some of the future shows. We've got some things in the works."
They'll also hit the road with some famous pals this summer for some backstage songwriting sessions.
"We've already been talking a lot with our buddies Luke Bryan , Blake Shelton and Miranda about getting out on, honestly, their tours and writing some with 'em and hanging out" Charles explains.
Hillary adds, "I'll Skype in."
Looking even further into the future, Charles has big dreams for Hillary's baby girl. He says, "When her little girl is old enough, I'm gonna sign her to a record deal and make her a big ol' star, and I've got exclusive rights."
Lady A is climbing the charts with "Goodbye Town," the new single from Golden .
Copyright 2013 ABC News Radio