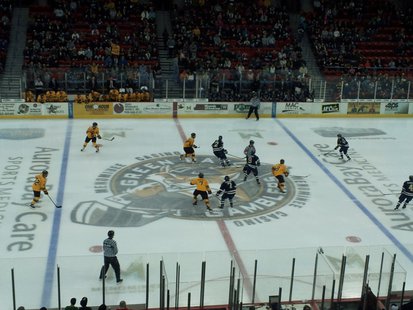 Green Bay, WI (KELO-AM) -Two first period goals and a stellar performance in goal for Charlie Lindgren propelled the Stampede to a 2-1 victory Friday night at the Resch Center. The win improved the Herd's record to 34-13-2 and kept them five points ahead of Fargo for first place in the West. The Herd finished the season series with a 2-1-0 mark against the Gamblers.
Todd Skirving and Zeb Knutson tallied goals in the first period as the Herd won for the fifth time in six games. Lindgren made 28 saves in goal for his league leading 26th win of the season, second most ever for a Stampede goaltender in one season.
The Herd return to action tonight when they travel to Dubuque to face the league leading Fighting Saints at 7:05 PM. The Stampede currently trail the Saints by five points for the league's best record. Fans can listen live on KELO and KELO.com tonight at 6:40 PM.