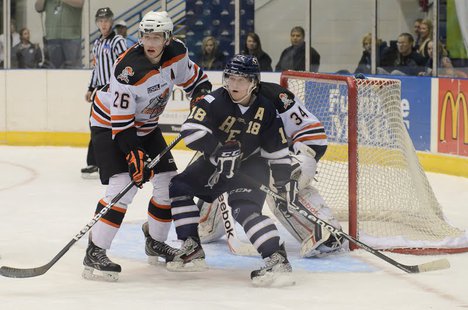 Dubuque, IA (KELO-AM) - In a battle of the top two teams in the league, the Stampede (35-13-2) rallied from 3-0 and 4-2 deficits to top the league leading Dubuque Fighting Saints, 5-4 in a shootout Saturday night. Todd Skirving scored in round 5 of the shootout and Charlie Lindgren stopped all five shooters faced to lead the Herd to the win. Sioux Falls finishes the regular season series with a 2-0-0 mark against the best team in the league.
Tony Calderone scored twice while the goaltending duo of Charlie Lindgren and David Jacobson paid off to earn the win. Lindgren played the first period as well as overtime and shootout while Jacobson played the second and third periods. Lindgren earned his league leading 27th win of the season, stopping 11 of 14 shots while Jacobson turned aside 14 of 15 shots. The win, along with the Fargo Force's loss to Lincoln, increased the Herd's lead in the West to seven points and moved them within four points of Dubuque for the Anderson Cup, awarded to the team with the most points during the regular season.
The Herd return to action this Wednesday when they host the Fargo Force at 7 PM at the Sioux Falls Arena. Tickets are available through the Sioux Falls Arena Box Office or any Ticketmaster location.