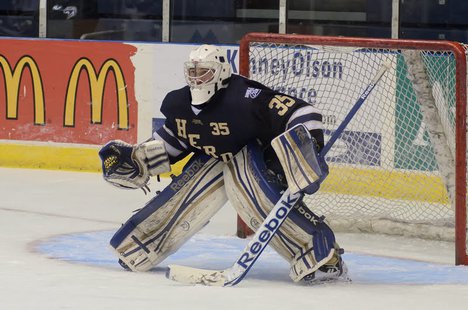 Sioux Falls, S.D. (KELO-AM) - The Fargo Force edged the Sioux Falls Stampede 5-2 at the Arena Wednesday night. C.J. Franklin and Zeb Knutson had the goals for the Herd in the seventh of eight meetings between Sioux Falls (35-14-2) and Fargo (31-16-5), while goaltender Charlie Lindgren let in four goals on 24 Force shots. The loss was the first in regulation this season for the Stampede against the Force (5-1-1).
"It was kind of an off night right away," said Knutson, whose team still remains five points ahead of Fargo for first place in the Western Conference. "We didn't play a full sixty minute game."
It was another tough night at home on the power play for Sioux Falls, close but no cigar in three efforts. The Herd now spend six of their next seven games away from home, not returning to the Arena until March 20 against the Tri-City Storm.
"We're back on the road again, so we just need to simplify the game and take care of the first 20 minutes," said Knutson. "Hopefully things will roll from there."
The Herd hit the road this weekend to Des Moines and Cedar Rapids on Friday and Saturday. Game times are 7:05 PM each night and you can hear them live on KELO News Talk 1320/107.9 and KELO.com.