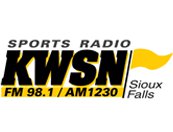 SIOUX FALLS, S.D. (KWSN) - The Sioux Falls Roosevelt Rough Riders defeated Rapid City Stevens 73-43 to open the quarterfinals of the state class AA basketball tournament. The Riders were led by Brandon Boggs' 23 points. Colton Kooima helped spark the Rider offense with 15 points, Tyler Howard added 13, and Nate Cole had 12. The Riders will now face Brandon Valley tomorrow.
Brandon Valley obtained a 62-29 win over Huron in the second game of the afternoon. Nic Peterson led the Lynx with 20 points and shot 53 percent from the field. Brandon Valley dominated the second half by outscoring Huron 27-6. The Lynx will face Roosevelt tomorrow at 6 pm on KWSN.
In the second session tonight, second ranked Pierre defeated Rapid City Central 60-47, and Sioux Falls Lincoln topped third ranked Brookings 53-48.
Coverage for Roosevelt/Brandon and Pierre/Lincoln will begin at 6pm on KWSN and at KWSN.com