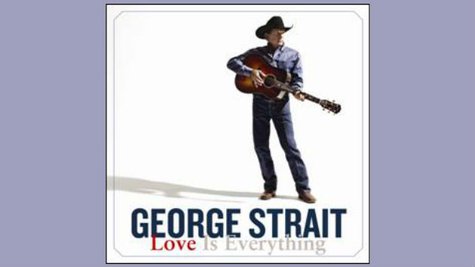 George Strait is set to release his 40th studio album, Love Is Everything , on May 14 featuring the lead single "Give It all We Got Tonight." George wrote or co-wrote of the albums 13 tracks, collaborating on some of them with his son Bubba Strait and veteran songwriter Dean Dillon .
Love Is Everything will be released as George continues The Cowboy Rides Away Tour, his final U.S. trek, set to wrap up next year. All 16 shows on the tour so far have been sellouts, and more than 80,000 fans recently came to see George at this year's Houston Livestock Show & Rodeo at Reliant Center.

Here's the Love Is Everything track listing:
"I Got a Car"
"Give It All We Got Tonight"
"Blue Melodies"
"I Just Can't Do on Dying Like This"
"I Thought I Heard My Heart Sing"
"That What Breaking Hearts Do"
"When Love Comes Around Again"
"The Night Is Young"
"Sittin' on the Fence"
"I Believe"
"Love Is Everything"
"You Don't Know What You're Missing"
"When the Credits Roll"
Copyright 2013 ABC News Radio