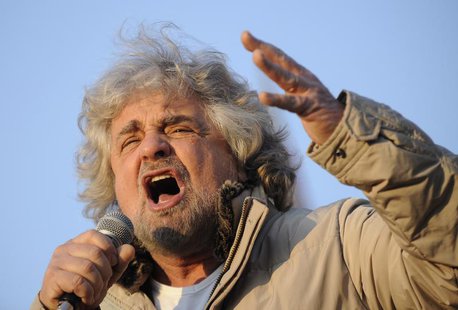 ROME (Reuters) - Italy's anti-establishment 5-Star Movement on Wednesday flatly rejected overtures from center-left leader Pier Luigi Bersani, who is trying to muster the numbers to form a government after last month's deadlocked general election.
The refusal by the group led by fiery ex-comic Beppe Grillo to accept Bersani's request was expected as the group had repeatedly said it would not back any of the big parties it blames for Italy's social and economic crisis.
"There are no conditions that would allow us to give a confidence vote to a government made up of these parties because they have no credibility," the group's Senate leader Vito Crimi said after meeting Bersani.
The rejection means Italy remains in political stalemate after the election, in which Bersani's alliance won a majority in the lower house of parliament but not in the Senate, leaving it unable to govern on its own.
The impasse, at the same time as the bank crisis in Cyprus, is being watched closely by European partners and investors mindful of the market turmoil which brought down former prime minister Silvio Berlusconi's government in 2011.
Bersani has already ruled out forming a coalition with Berlusconi's center-right bloc, the second largest force in parliament, which says a broad alliance is the only way to give Italy a government.
Bersani had hoped to gain support from the 5-Star Movement for a limited platform of institutional and economic reforms but prospects of any accord are fading fast.
Crimi and his colleague Roberta Lombardi, the 5-Star leader in the lower house, also ruled out indirectly supporting a government by allowing some measures to pass in the Senate without voting themselves.
Italian media and commentators have speculated that 5-Star Movement senators could agree to leave the chamber, where under Senate rules an abstention vote counts as a 'no', to allow certain key votes, including confidence motions, to succeed.
"We rule out leaving the chamber," Crimi said.
Bersani is expected to see to President Giorgio Napolitano later this week to report on the meetings he has held with rival parties this week.
If he cannot reach an agreement, Napolitano may appoint a respected outsider to try to form a technocrat government or a broad cross-party coalition. If that fails, Italy faces the prospect of a return to the polls within months.
An auction of medium and long-term bonds on Wednesday saw less-than-stellar demand as investors reacted warily to the political confusion.
"Risks for the Italian debt remain very high in the coming weeks," said Annalisa Piazza, a market economist with Newedge in London.
"Although Bersani's consultations with other political leaders might lead to a grand-coalition government, markets are aware that such a government will not last long," she said.
(Reporting by James Mackenzie; Editing by Barry Moody and Angus MacSwan)