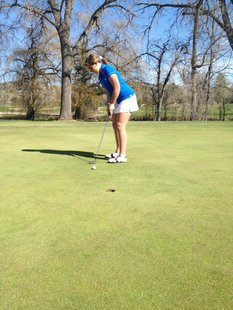 SIOUX FALLS, S.D. (KELO AM) - At 4:45 am on Sunday, the Sioux Falls Public Schools and Sioux Falls O'Gorman Girls golf teams departed for Rapid City to participate in the Greater Dakota Conference Girls Golf Tournament. Also participating were the Rapid City Schools. The schools were able to play a practice round to prepare for the real thing on Monday.
The Lady Knights made their way around Meadowbrook Golf Course in 339 strokes to easily best runner-up Rapid City Stevens (362) and Rapid City Central (384).
"It is a nice way to finish for us," said long-time O'Gorman coach Rod Garrison. "One of the things I talked to the team about going in to today was that we would like to win the last GDC since we have had a pretty good run in the conference, so it's a nice way to go out."
O'Gorman sophomore Kelsey Johnson took home medalist honors, shooting an 81, four shots better than Sioux Falls Lincoln senior Mae Meierhenry. Five players carded 86s, including O'Gorman's Claire Jansa, Meredith Turner and Myla Brown, Abbie Grevlos of Sioux Falls Lincoln and Stevens' sophomore Kiley Phares.
Johnson, like many of the competitors, struggled with the speed of the greens for much of the day, three-putting both No. 11 and No. 12 after turning in 41 strokes. Locked in a back-and-forth dual with Lincoln's Abbie Grevlos, Johnson recovered nicely down the stretch recording pars on five of the last six holes courtesy of some firmly struck, clutch par putts.
"There were some tough pins out there, and the greens were a little inconsistent," Johnson said. "That and trying to figure out the breaks on the greens was very difficult.
Team Scores: O'Gorman 339, RC Stevens 362, RC Central 384, Roosevelt 387, Lincoln 391, Washington 420, Sturgis 422.
Top 15 Individual Results following Tie-Breakers:
1. Kelsey Johnson Sioux Falls O'Gorman 81
2. Mae Meirhenry Sioux Falls Lincoln 85
3. Claire Jansa Sioux Falls O'Gorman 86
4. Kiley Pharis Rapid City Stevens 86
5. Abby Grevlos Sioux Falls Lincoln 86
6. Meredith Turner Sioux Falls O'Gorman 86
7. Myla Brown Sioux Falls O'Gorman 86
8. Sydney James Rapid City Stevens 89
9. Taylor Leasure Sioux Falls Roosevelt 92
10. Collee Habbe Rapid City Stevens 92
11. Charley Claussen Rapid City Central 92
12. Annie Simon Sioux Falls O'Gorman 92
13. Erin Rezich Rapid City Stevens 95
14. Ashlee Eggebraaten Sioux Falls Washington 95
15. Jamie Benedict Sioux Falls O'Gorman 96
Azure Rodriguez Rapid City Central 96
Morgan Weiher Sioux Falls Roosevelt 96