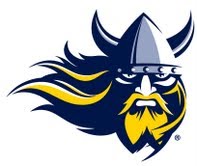 ST. CLOUD, MN (KWSN) – David Borchardt hit a walk-off three-run home run in the bottom of the ninth inning to lift Augustana (38-17) to a 6-5 victory over Winona State (23-17) to stay alive in NSIC Tournament play.Winona State's Ben Weeks hit a grand slam home run in the top of the sixth inning to push the Warriors' lead from one to 5-0.
Augustana started to slowly chip-away at Winona State's lead getting a run in the sixth, two in the eighth and three in the ninth.In the bottom of the sixth inning, The Vikings pushed an unearned run across to make it a 5-1 game. After two quick outs, Borchardt was hit by a pitch and moved up to third on a single by Jack Goihl.
Brian Duxbury then reached on an error, which allowed Borchardt to score the Vikings' first run of the game.After a scoreless seventh, Augustana made it a two-run game at 5-3 in the bottom of the eighth inning on back-to-back RBI doubles by Goihl and Duxbury.In the bottom of the ninth inning, Marcus O'Neill starte off the inning by getting hit by a pitch.
After Nate Hewes fouled out, Tony Viger walked and the Vikings had runners on first and second. Tony Viger then reached on a fielder's choice as O'Neill was forced out at third, bringing Borchardt to the plate with two runners on and two outs.
Borchardt then blasted his sixth home run of the season over the right field wall to keep Augustana alive in the NSIC Tournament.Grant Larson earned the win for the Vikings, pitching in relief of Bennett Johnson.
Larson improves to 6-4 on the season after going 3.1 innings, striking out two batters and giving up just one hit.Goihl delivered a 3-for-4 performance at the plate with a double and an RBI. O'Neill and Viger each went 2-for-4 while Borchardt finished the game 1-for-4 with three RBI.
Augustana will take on St. Cloud State in the NSIC Tournament at 3:30 p.m. today in St. Cloud, Minn.
Courtesy: Augustana College