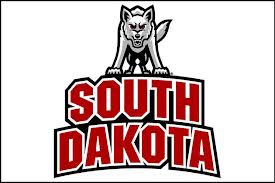 VERMILLION, SD (KWSN) – Five South Dakota track and field student-athletes were named to the Summit League's Outdoor Track and Field Academic All-League Teams in a league release on Thursday. The teams were voted on by each institution's faculty athletics representatives and sports information directors.
Three members of USD's men's team made the list, with junior Jeff Mettler, sophomore Brant Haase and senior Brandon Kovash earning the honor.
Mettler, who has a perfect 4.0 GPA as a kinesiology and sports science major, won his second 3,000-meter steeplechase title at the Summit League Outdoor Track and Field Championships last week. Haase, also a 4.0 GPA student in kinesiology and sports science, has the league's second-best time in the 10,000 while Kovash, a psychology and interdisciplinary studies major with a 3.8 GPA, was part of USD's league winning 4x100 relay team.
Alexa Duling and Emily Grove were named to the women's team. Duling, a 4.0 student in the Masters of Business Administration program, won the league 400-meter hurdles title in a league championship record time of 58.59. She was also named the recipient of the NCAA Walter Byers Scholarship last week.
Grove is a kinesiology and sports science major with a 3.78 GPA. The sophomore placed third in the pole vault at the league outdoor championships and currently is tied for the 12th-best vault in the nation with a mark of 14 feet.
To be eligible for the Academic All-League Team, student-athletes must at least have a cumulative GPA of 3.3 (on a 4.0 scale), completed one full academic year at their current institution and competed in 50 percent of their team's competitions. The teams are made up of the 10 members receiving the most votes with all ties standing.
Courtesy: University of South Dakota