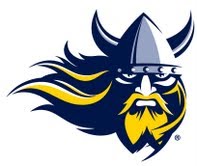 NEW ORLEANS, LA (KWSN) - Augustana had eight athletes named to the US Track & Field and Cross Country Coaches Association All-Central Region first team. Travis Beniak, Runa Falch, and Kristin Brondbo all earned the top region honors in three events while Adam Braun, Henrik Holmberg, Aaron Jung, Harald Karbo, and John Klecker grabbed their accolades in one event each. Six of these athletes will compete in next weekend's NCAA Championships in Pueblo, Colo. from May 23-25.
To earn All-Region honors from the USTFCCCA, an athlete must hold a time/mark that ranks in the top five in their region. The Central Region consists of the Northern Sun Intercollegiate Conference, Mid-American Intercollegiate Athletic Association, and Great America Conference.
Beniak headlines the men with three top-five event times. Beniak earned the honors with his times in the 1,500-meter, 3,000-meter steeplechase, and 10,000-meter run. The senior from Mazeppa, Minn. will compete in the steeplechase at the NCAA Championships.
Hailing from Steinkjer, Norway, Falch and Brondbo represent the Augustana women by earning three all-region honors apiece. Falch and Brondbo rank 1-2 in the Central Region in the 10,000-meter run, an event both earned bids to the NCAA Championships to compete in with their times. The two also ranked top-five in the 1,500- and 5,000-meter runs to garner all-region honors.
Karbo and Braun join Beniak as part of the top five in the men's 3,000-meter steeplechase. Karbo holds the second-fastest time in the Central Region while Braun checks in at No. 4 in the steeplechase. Karbo will compete at the NCAA Championships with Beniak in the steeplechase. Jung's 17.30-meter toss in the shot put earned him all-region honors and checks in as the third-best mark in the Central Region.
Jung's mark also qualified him for the NCAA Championships and sits as the 12th-best distance in Division II this season. Holmberg earned the honors with a runner-up finish at the NCAA Multi-Event Championships in the men's decathlon.
Holmberg tallied 6,823 points in the 10 events and owns the third-best total in the region. The Vik, Norway native's eighth-best mark in Division II earned him a spot in the NCAA Championships next weekend. Klecker, a freshman, was named All-Central Region for his performance in the men's 5,000-meter run at the Kip Janvrin Open.
Klecker's mark is the third-fastest in the Central Region this season.
Six Vikings will trip to Pueblo, Colo. for the NCAA Championships on May 23-25 to close out the season.
Courtesy: Augustana College