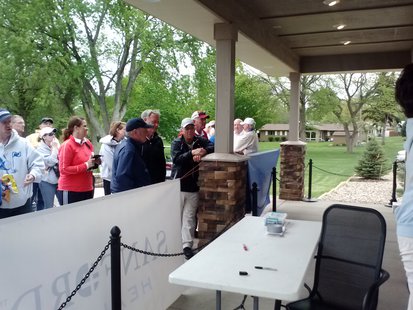 Yankton, SD (KWSN)- At the end of the first day of play at the South Dakota Girls State Golf Championship, Sioux Falls O'Gorman leads by four strokes. Yankton's Hillcrest Golf and Country Club is considered one of the toughest courses in the state. Add the wet conditions, thick rough and narrow fairways, it was evident that shooting low was going to be a challenge.
Hallie Getz from Pierre was the only golfer in the first round to break 80, scoring a 76. Abbie Grevlos, SF Lincoln, overcame a slow start to come in second with an 80. Megan Mingo, Yankton and Haliee Pieper, Watertown scored 81s.
Tuesday's round should play out much like last year, but instead of trailing, O'Gorman has a 5 shot lead.
"We know we left some shots out on the course as did a lot of teams today," said Rod Garrison, Head Coach, Sioux Falls O'Gorman. "The roughs were thick and the fringes around the greens played slow. We need to still play offensive golf and not defensive."
Garrison said his team is ready to go out tomorrow and score low. We have a lot of experience and players new to this level of golf.
Top 20 players going into tomorrow's round:
Hallie Getz Pierre 76
Abbie Grevlos SF Lincoln 80
Megan Mingo Yankton 81
Haliee Pieper Watertown 81
Claire Jansa SF O'Gorman 82
Kelsey Johnson SF O'Gorman 83
Kristin Sabers Mitchell 84
Taylar Rotert Huron 84
Mae Meierhenry SF Lincoln 84
Meredith Turner SF O'Gorman 85
Becky Frick Yankton 86
Katie Bartlett Pierre 88
Karissa Guthrie Pierre 89
Kayla Krueger Aberdeen Central 90
Annie Simon SF O'Gorman 91
Macy Miller Mitchell 92
Myla Brown SF O'Gorman 92
Kiley Phares RC Stevens 93
Tatum Richards Pierre 93
Amanda Tobin Aberdeen Central 94