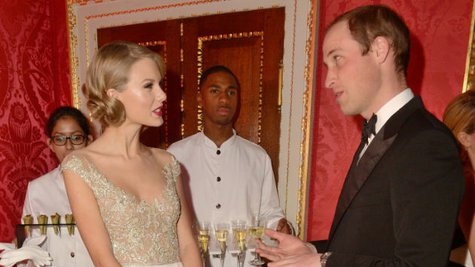 One of today's pop music princesses has just encountered a real-life prince: Taylor Swift got to meet Prince William, Duke of Cambridge, on Thursday when she performed at a charity gaga at his home, Kensington Palace, in London.
According to the Daily Mail, Taylor said of the prince, "He's very funny. He's really cool. It's awesome, 'cause when you see someone from afar and you respect the way they carry themselves, and you meet them and they're funny, that's a whole cool different exciting realization."
Taylor was taking part in the Winter Whites Gala, which benefits Centrepoint, a charity for homeless youth of which Prince William is a patron.
"All the aspects of tonight seem wonderful to me," Taylor told reporters. "The fact that this is highlighting a charity that focuses on teens from 16 to their mid-20s who are homeless...I think that that is an amazing thing to focus on and to draw attention to. I've always really respected Prince William and I think that just getting to be a part of tonight...getting the invitation, I knew it was gonna be a lot of travel -- I kinda walked right offstage after making an acceptance speech at the AMA's and got right on a plane -- but it was worth it!"
Also on hand to perform at the swanky event was Jon Bon Jovi , who brought his wife and some of his kids along, and James Blunt . Explaining why meeting William wasn't intimidating for him, the Mirror reports that Jon said, "I [already] met his father [Prince Charles] and I met his grandfather [Prince Phillip]. He's still a young kid to me, but a nice young kid."
Copyright 2013 ABC News Radio