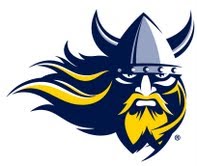 SIOUX FALLS, S.D. (KWSN)– Augustana women's golf will begin its Northern Sun Intercollegiate Conference title defense with the first two rounds of the NSIC Championships this weekend. The fall portion of the NSIC Championships will be held at the Classic Course at Madden's Resort in Brainerd, Minn.
The first group will tee off at 8 a.m. on Saturday. Round two will get underway with a shotgun start at 9 a.m. on Sunday.
The NSIC Championships consists of 72 holes, in which 36 will be played this Saturday and Sunday. The final 36 holes will be played April 26-27 at Dacotah Ridge Golf Course in Morton, Minn.
Augustana has won four straight NSIC Championships. The Vikings have also had the individual medalist at the NSIC Championships the past two seasons, Maggie Leland (2011-12) and Allie Ostrander (2012-13).
A year ago, Augustana shot a 1279 (326-320-314-319) and finished 61 strokes ahead of second-place Minnesota State for its fourth straight NSIC Championship.
The Vikings are coming off a third-place finish, amongst six NCAA Division I teams, at the Jackrabbit Invite. Augustana shot its best two rounds of the season at the Jackrabbit Invite, firing a five-over 2890 in the second round and a nine-over 293 in the first round.
Marisa Toivonen currently leads the Vikings with a 77.14 stroke average on the season. The sophomore has finished in the top five of all three events this season. Toivonen's best round of the season was a one-under-par 71 at the Concordia Invite on Sept. 16. Last week, Toivonen finished third at the Jackrabbit Invite shooting a 21-over-par 234 (79-78-77).
Maggie Leland has compiled a 79.43 stroke average this season, while recording two top-10 finishes, and one top-five performance. Leland tied for third at the Concordia Invite on Sept. 15-16, shooting an 11-over-par 155 (76-79). The senior shot a season-low round of 76 at the Concordia-Invite, and a 77 on three occasions.
Allie Ostrander has compiled a 79.57 stroke average in seven rounds this season. Ostrander fired her season-low round of three-over-par 74 at the Jackrabbit Invite last week. Ostrander enters the NSIC Championships as the defending individual champion from 2012-13.
Jennifer Pederson has one top-10 finish this season and enters the weekend with an 80.86 stroke average on the season. Pederson shot her season-low round of 75 at the Augustana Invite on Sept. 7.
Jordan Bormann will play in her first NSIC Championships this weekend. Bormann has compiled an 82.14 stroke average this season.
Courtesy of Augustana College