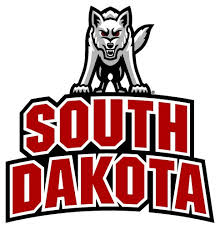 CEDAR FALLS, Iowa (KWSN) —South Dakota rallied from a 28-7, third-quarter deficit, forced overtime with five seconds left in regulation, and upset 13th-ranked Northern Iowa 38-31 Saturday in front of 11,000 fans inside the UNI-Dome. The win ends an 18-game, road losing streak for the Coyotes (4-3, 3-1 MVFC) dating back to the program's win at Minnesota in 2010.
"This is another bucket list for us," said USD head coach Joe Glenn. "I'm really proud of (our team). We have beaten some really good teams and we came in here, played them of their home field and got the victory."
USD sophomore quarterback Kevin Earl passed for a career-high 370 yards and accounted for five touchdowns (3 pass, 2 rush). He threw a 3-yard touchdown pass to Terrance Terry on fourth down at the end of regulation to force overtime, and snuck in from one yard away for the go-ahead score in double overtime.
Earl improved to 3-0 as the Coyotes' starter. His 370 yards are the most by a USD quarterback in four seasons. His favorite target was true freshman Riley Donovan who caught touchdowns of 48 and 43 yards. He finished with nine catches for 178 yards – the most by a Coyote since 2008.
"Kevin has settled in at quarterback," said Glenn. "You saw Josh (Vander Maten) made a couple terrific plays. Our running game is starting to be a force and more guys are getting in the act in the passing game."
South Dakota won despite four major miscues on special teams. The Coyotes missed field goals of 32 and 28 yards at the end of the second quarter and trailed 14-7 at halftime. USD bounced snaps back to the punter at the end of back-to-back possessions to start the third quarter that resulted in losses of 18 and 19 yards. The turnovers led to UNI touchdown drives of 43 and 14 yards.
UNI running back David Johnson carried 35 times for a game-high 181 yards. His 7-yard touchdown run gave the Panthers (4-3, 0-3) a 28-7 lead with 5:54 left in the third quarter.
Earl's second touchdown pass to Donovan cut the lead to 28-14 with 3:20 to go in the third. His 8-yard quarterback draw made it a seven-point game with 11:26 to go in the fourth quarter.
South Dakota's defense limited UNI to 117 yards in the second half. The Panthers got one first down and had 30 yards in the fourth quarter.
"Our defense continues to play great," said Glenn. "We might get shaken for a little bit, but not for long stretches. They are competing at a high level and they are the reason we had a chance to win this game because they kept us in the game all the way."
UNI sophomore quarterback Sawyer Kollmorgen had thrown one interception through six games this season. He threw two in the fourth quarter Saturday and had three picks in all. Against the nation's top pass defense, Kollmorgen finished 13 of 23 for 190 yards. At the end of the first quarter, he was 6 of 7 for 117.
"We have a veteran group on defense – especially in the secondary," said USD senior cornerback Jarrid Bryant, whose interception set up the Coyotes on the UNI 38 before the offense cut the lead to seven. "We live for this. This was the most fun game I have ever played in. I loved it."
South Dakota's offense was turned away from the UNI 8 with 3:03 left in regulation, but the defense gave the team one final chance. Earl started 58 yards away with 1:17 to go and no timeouts.
Earl hit Tyler Wilhelm for 18 yards and then Vander Maten for 24 to get down to the UNI 16. Defensive pass interference on the next play set up 1st-and-goal from the 4. It was 4th-and-3 when Earl threw left to Terry who barely broke the plane of the goal line as he made the catch. Bergner's extra point, and a tackle by Ryan Alger on the kickoff forced overtime.
"It is never over until the clock hits zero," said USD freshman running back Trevor Bouma, who rushed for a season-high 149 yards. "Our defense gave us a chance to score and Kevin made some great plays to get us down the field quickly."
The two teams exchanged field goals in the first overtime period. The second overtime began with an Earl screen to Wilhelm who rumbled down to the 8. Bouma caught a middle screen and reached the 2 on first down. He ran to the 1 on second down and Earl pushed his way in on third down to make it 38-31.
Johnson began the Panther's final possession with a run to the 12. He carried to the 10 on the next play. Kollmorgen hit Chad Owens for four yards on second down to the 6. An incomplete pass forced fourth down.
Kollmorgen dropped back on fourth-and-3, but was forced to tuck and run. USD defensive end Emilious Davis sacked Kollmorgen for a four-yard loss on the final play of the game.
It was the first overtime game for the Coyotes since 2009 and their first overtime win since 2005. Northern Iowa has lost two consecutive games in overtime and both in the UNI-Dome.
Courtesy: University of South Dakota