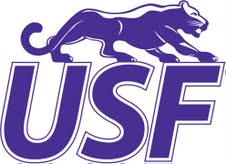 SIOUX FALLS, S.D. (KWSN) – The University of Sioux Falls women's soccer team nearly handed Southwest Minnesota State their first loss of the season, but came up short as the Mustangs defeated the Cougars 3-1.
The Cougars struggled offensively in the first half as they only registered one shot on goal, but an outstanding performance by senior goalkeeper Corrin Cook sent the Cougars into the half with a 0-0 tie. Cook recorded five saves for the Cougars during the opening half.
After giving up an early second half goal to Southwest Minnesota State's Kendahl Fisher, the Cougars responded with a goal of their own in the 56th minute. USF's Maria Gonzalez played the ball back to the middle where teammate Caitlin Crouse took a touch out of her feet and hit a shot over the goalie from 20 yards out.
The Mustangs would regain the lead in the 79th minute as Autumn Hayes took a pass from Morgan Weyer-Coates and got it past USF's Corrin Cook.
Hayes would convert on a penalty kick in the 90th minute after getting tangled up with USF's Melissa Daugherty to make the final score 3-1 in favor of Southwest Minnesota State.
Corrin Cook would record eight saves for the Cougars bringing her season total to 18 saves.
USF's Caitlin Crouse would finish the match with two shots on goal and one goal scored. Maria Gonzalez also recorded one SOG and had the assist on Crouse's goal.
The Cougars will take the field next on Sunday, September 15 against Lindenwood University. The match is set to begin at 1 p.m. at the USF Sports Complex.
Courtesy of University of Sioux Falls