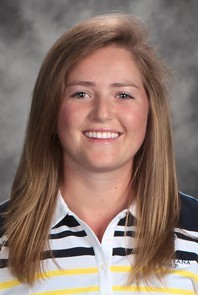 BURNSVILLE, Minn. (KWSN) - Augustana women's golfer Marisa Toivonen's third-place finish at the Concordia Invitational earned her the Northern Sun Intercollegiate Conference player of the week honors from the conference on Wednesdaymorning.
This is Toivonen's first NSIC player of the week honor.Toivonen fired a tournament-low 71 in her second round, 13 strokes fewer than her first round score, to vault her up the leaderboard 35 spots. The sophomore from Red Wing, Minn. finished third overall with an 11-over-par 155 in her two rounds.
Led by Toivonen's top-three finish, the Vikings took second place as a team, shooting a 55-over 631 at the Tartan Park Golf Course in Lake Elmo, Minn. This was the Vikings' second-consecutive runner-up finish to start the 2013 season.
Augustana returns to the links at the Jackrabbit Invitational hosted by South Dakota State at the Minnehaha Country Club in Sioux Falls, S.D. on Sept. 23 and 24.
Courtesy: Augustana College