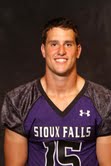 SIOUX FALLS, S.D. (KWSN)– It's no surprise that after Saturday's record-breaking performance that true freshman quarterback Luke Papilion was the runaway choice for USA College Football's Rookie of the Week award. Papilion rushed for 240 yards and five touchdowns in his first home start to lead the Cougars (1-1) to a rousing 45-37 win against Northern State (1-1) before a crowd of 3,356 at Bob Young Field.
The win was Sioux Falls' first over its former South Dakota Intercollegiate Conference rival and new NSIC foe since 1934. In addition, USF improved to 43-1 overall at Bob Young Field. Papilion's yards and touchdowns are both thought to be school records for quarterbacks. No one in a Cougar jersey, regardless of position, had rushed for three touchdowns since Lorenzo Brown ran all over Northwestern College on Halloween night in 2009. Papilion is the first Cougar to accumulate more than 200 yards on the ground since former NAIA first team All-American Mike Dvoracek (2005).
Facing second-and-12 at the NSU 42, Papilion took matters into his own hands and broke off a 42-yard touchdown run to put USF in front 17-7 with 5:17 left in the first half. The Wolves responded with two scores in the next four-plus minutes and it appeared as though the visitors would carry a 21-17 lead into the locker room, but Papilion led the charge once again, opening USF's ensuing drive with a 32-yard burst and capping the four play, 39-yard drive with a two-yard rush into the end zone to give the Cougars a 24-21 lead at the half. The Wolves still had no answer for Papilion's 6'5 frame, quick feet and improvisational skills after the break. Papilion tacked on touchdown runs of one and four yards in the third quarter. His 34-yard run with just over six minutes to go in the contest put the Cougars deep in Wolves territory and set the table for his own five-yard run for his final score of the game. The Cherry Creek (Colo.) graduate finished with 240 yards rushing and completed 8 of 25 passes for 94 yards with no interceptions.
It is the first player-of-the-week honor of Papilion's career.
Courtesy: University of Sioux Falls