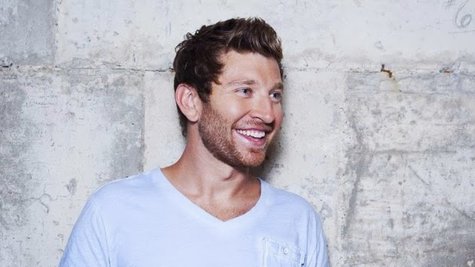 Brett Eldredge was honored at a party in Nashville Monday toasting his first #1 hit, "Don't Ya." This event was a big deal for Brett since he's gone to many parties just like it in the past few years.
He explains, "I remember coming to the number one parties to support friends and songwriters and eat the finger sandwiches and the good food and the free drinks, especially when I was first in town. That's a meal right there for a songwriter. And now I get actually to have my own #1 party."
It's not that Brett hasn't already celebrated his first #1. He went skydiving a few weeks ago to mark the occasion, but the partying really got underway when he first found "Don't Ya" had hit the top. Brett was on stage in Georgia when he got word that "Don't Ya" was the #1 country song in the country after more than 40 weeks on the chart.
"I was just completely freaked out," Brett says of that night. "When I played that song, the place was just electric and the whole band and all of us were just out of our minds. We partied like crazy that night, 'cause it was right there on stage happening."
"Don't Ya" is included on Brett's debut album, Bring You Back , now in stores. That project also features his new single, "Beat of the Music."
Copyright 2013 ABC News Radio Country