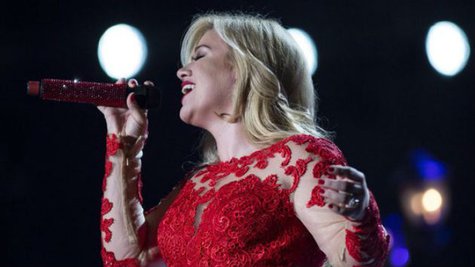 Ever since Kelly Clarkson announced she was expecting, glimpses of her baby bump have been rare. But this past weekend, she was out and about with her pregnant belly definitely on display.
US Weekly has photos of Kelly on a boating outing with her husband Brandon Blackstock and his family, including his stepmother, country superstar Reba McEntire . She was wearing black leggings, flip-flops and a long salmon-colored tunic with a black and white bow printed on the belly. Later, she wore a white top which showed off her belly even more.
That same day, Kelly and her group were spotted dining at a Cracker Barrel restaurant, according to the magazine. "Happy Easter everybody! We celebrated on the lake today. Loving the sun, family and friends!" she tweeted .
It's not clear exactly when Kelly and Brandon are expecting their baby girl, though she announced in November that she was expecting. Earlier this month, she tweeted , "There's something very cool yet very creepy about a baby moving inside your belly. Regardless, I'm pretty sure she's gonna be a gymnast."
Copyright 2014 ABC News Radio